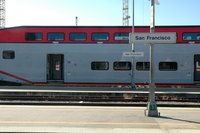 You can travel the 42 miles from San Francisco to San Jose by via Caltrain or Amtrak. Caltrain is a commuter rail system via the South Bay with frequent departures to San Jose from its northern terminus in San Francisco. San Francisco does not have its own Amtrak station, but Amtrak-operated buses transport passengers to two terminals in Oakland in the East Bay.
Caltrain Service
Caltrain Terminal is at 700 Fourth Street at the corner of King Street, two blocks from AT&T Park in San Francisco's SoMa/South Bay neighborhood. Local trains run south from San Francisco hourly or more frequently at rush hour and for baseball games, calling at stations in the Peninsula, Silicon Valley and the South Bay. Caltrain's fastest journey to San Jose takes 60 minutes on the express service known as Baby Bullet, operating during weekday commuting hours.
Amtrak Thruway Buses from San Francisco
Amtrak's Thruway buses depart from several locations in San Francisco to connect to Amtrak's Oakland and Emeryville stations. The main bus collection point is inside the Ferry Building at Embarcadero and Mission Street. The alternative locations are curbside pickups. These are: 835 Market Street at Westfield Shopping Centre; Beach Street and Embarcadero at Pier 39, Fisherman's Wharf; in the Financial District at the corner of California and Drumm streets and at 700 Fourth Street at Townsend outside the Caltrain Station. Consult the Amtrak site for a schedule.
Emeryville and Oakland Amtrak Stations
Dedicated Amtrak Thruway bus service from San Francisco connects to both Capital Corridor and Coast Starlight southbound trains departing from Emeryville at 5885 Horton Street and from Oakland at 245 Second Street in Jack London Square. Both of these Amtrak stations have waiting rooms. In addition to Amtrak Thruway bus service, BART can be used to reach an East Bay Amtrak station.
BART Connections for Amtrak Stations
Bay Area Rapid Transit (BART) serves the East Bay from San Francisco. However, the nearest BART stations are not convenient to the Amtrak Stations. BART at 12th Street/Oakland City Center is nearly one mile to Oakland Amtrak and BART at MacArthur Street Station is two miles to Emeryville Amtrak. The best connection from San Francisco via BART is to Oakland/Coliseum, where the Amtrak platform is across San Leandro Boulevard from the BART platform, connected by a pedestrian bridge. BART's extension from San Francisco to San Jose is a long-term planning project.