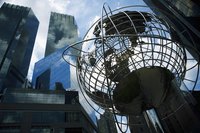 About 225 miles separate New York City from Washington, D.C. Frequent travelers between the two cities know well the myriad ways to get from one to the other. Time, budget and mode of transportation determine which method you choose. Driving or taking the train or bus allows for the most sightseeing along the way. Flying, of course, gets you there fastest.
Take a Plane
Travelers between New York and Washington, D.C., have a multitude of flight options. New York is served by LaGuardia, JFK International and Newark Liberty International airports. Passengers can choose to fly into Reagan National, Dulles International or Baltimore/Washington International. New York's airports are all served by public transportation. In Washington, Reagan National, just across the Potomac River, is the most convenient airport to the subway system. At the time of publication, Metro was not serving Dulles, but a subway line is in the works. BWI, outside Baltimore, is the farthest from Washington, but fares are frequently lower. Passengers can get from BWI to Washington via commuter rail or bus.
Take a Car
The drive between New York City and Washington, D.C., takes about four hours via Interstate 95 and the New Jersey Turnpike. Expect to pay bridge tolls in New York, Delaware and Baltimore, as well as highway tolls on the New Jersey Turnpike, the Delaware Turnpike and the JFK Memorial Highway in Maryland. If you'd prefer a more leisurely route with fewer tolls, consider getting off I-95 in New Brunswick, New Jersey, and getting on U.S. 130 to U.S. 40 near Wilmington, Delaware. U.S. 40, one of the first coast-to-coast highways built, heads west in Baltimore, so you will have to choose either to get back on I-95 or take the Baltimore-Washington Parkway, known as the "Scenic Entry to the Nation's Capital."
Take the Train
Frequent train service between New York and Washington caters to business and leisure travelers. Point-to-point travel begins at Penn Station in Manhattan and ends at Union Station on Capitol Hill. Regular routes such as the Northeast Regional make as many as 15 stops between the two cities for a trip that can last as long as four hours. Business class passengers enjoy roomy seats, extra legroom, electrical outlets and a complimentary beverage and newspaper. Taking the pricier Acela Express reduces the trip time to less than three hours. Trains travel as fast as 150 mph while passengers enjoy complimentary seat-side food and beverage service, hot towels and comfortable seating.
Budget-Friendly Options
Almost constant price wars between competing New York-to-D.C. bus carriers result in low fares for riders. Do your research ahead of time and you will wind up on a well-maintained bus with Wi-Fi, electrical outlets, free entertainment and clean bathrooms. If you wait until the last minute, you may wind up on a dirty bus with broken reading lights and an unsanitary bathroom. Greyhound's Bolt Bus has more legroom than standard buses, free Wi-Fi and electrical outlets. Washington Deluxe offers the same amenities, and has a loyalty rewards program for frequent riders. If you're bold, consider sharing the ride between New York and D.C. Check Craigslist or a service such as CarpoolWorld or Ridester.