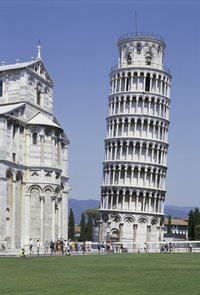 When you have soaked up Renaissance art and history at the Uffizi and the Accademia, shopped till you dropped for fine leather and local wines in the San Lorenzo Market and gazed in wonder at the Duomo and the Ponte Vecchio, it may be time to say, "Arrivederci" to Florence and follow the Arno River west toward Pisa. Both cities are located among the sloping olive-colored hills of Tuscany, and you can enjoy views of ancient farmhouses, village squares and vineyards when you travel by train, bus or car.
By Train
Florence's Santa Maria Novella train station is centrally located and the ideal place to catch a train for Pisa. Trains leave SMN every half-hour for Pisa Centrale, and most routings are about an hour. From the station, it's a pleasant shop-filled 20- or 30-minute walk to the Leaning Tower, the Baptistry and the Piazza dei Miracoli, or Square of Miracles. If you are trying to get to the Galileo Galilei Airport in Pisa, you can take an express train; six of them run during the week and three on Sundays. Purchase your ticket from the biglietteria at the station, or use one of the self-service kiosks. Make sure you validate your ticket before getting on the train. Simply slide your ticket into the green and yellow box on or near the platform, and wait to hear it print a date and time stamp.
By Car
Driving from Florence to Pisa presents a lot of lovely scenery, but it takes longer -- at least an hour and a half -- and you should make peace with the fact that you will probably get lost. This has nothing to do with your skill as a driver or the maps in your possession; it's simply part of the driving-in-Italy experience. There are two main routes -- the A-11/E76 highway or the SGC. The A-11 route takes you through delightful medieval towns like Prato, Pistoia and Lucca, where you might want to stop to take a walk or sip an espresso. The SGC takes you farther south, through Empoli and Pontedera. Don't go too far south, or you'll end up in Livorno. Look for signs pointing you north toward Pisa, and invest in a reliable GPS system. Be prepared for tolls on these roads. You get a ticket when you enter the toll road and pay in euro or by credit card when you exit.
By Bus
Think twice about taking the bus unless you're looking for an airport transfer. Two private bus companies offer service between Florence and Pisa, but they will not drop you off in the center of Pisa. Buses depart from Florence's airport or the Santa Maria Novella train station and arrive at Pisa's airport. The bus ride is about an hour, and you'll need to buy a ticket from Terravision or Autostradale.
Travel Tips
Unless you have a rental car that you need to return to Pisa, the train is the fastest, cheapest and most efficient way to travel between these two Tuscan gems. While you're in Pisa, don't just visit the tower and call it a day. It's a thriving university town with impressive churches, stimulating museums and plenty of lively shopping and dining available, especially if you get off the beaten path. You can stroll on bridges across the Arno River in both cities and admire local artists and craftspeople selling their work.