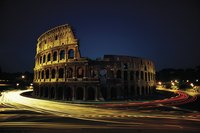 When your trip to Italy includes exploring the classic ruins and stunning architecture of Rome as well as the art and music of Venice, you're getting the best of both Italian worlds. It's not difficult to transfer between Rome and Venice. A number of high-speed trains move back and forth between the cities, or you can drive and even fly. You'll leave the traffic and big city congestion behind on the terra firma and arrive to narrow streets, mysterious neighborhoods and, of course, the Grand Canal when you land in Venice.
Rome to Venice by Train
Trenitalia, the Italian rail network, offers the Frecciargento high-speed trains that depart from Rome's Termini station and arrive at the Santa Lucia station in Venice. Get a window seat so you can admire the sloping hillsides of wine country in Umbria and Tuscany as well as the mountain villages and hill towns you are sure to pass. You'll also get a glimpse of larger cities such as Florence and Bologna on your way to Venice. Emerge from the train station in Venice and the Grand Canal is right in front of you. Hop on a vaporetto, or water bus, to get to your Venetian destination.
Rome to Venice by Plane
For domestic air travel in Italy, fly Alitalia, the national airline. Your flight will be cheaper and faster than on other airlines, getting you from Rome's Fiumicino airport to the Marco Polo airport in Venice in about an hour. There are at least five or six flights per day on Alitalia. Once you arrive at the airport on the mainland, you can take a bus or taxi and then a train the 4 or 5 miles to watery Venice.
Rome to Venice by Car
Venice is about 335 miles from Rome, and a drive will take you about six hours. The main benefit of driving is that you can stop and see a number of other cities and towns on the way. Get on the A90 highway out of Rome and catch the A1/E35 route, which takes you northeast toward the top of the boot. Stop in Orvieto to sample some of the locally grown white wine, and then head to Siena to admire Renaissance art. Past Florence, have lunch in Bologna, where the meaty Bolognese sauce originated. Once in Venice, either park in one of the lots on the mainland and take a train to the city, or park in Piazzale Roma, where there is a large public lot. Rental cars are also returned to Piazzale Roma.
Tips and Recommendations
If you have not yet decided how you want to get from Rome to Venice, your best option is the train. On the Frecciargento, you'll have assigned seats, plenty of leg room and a dining car where you can buy snacks and drinks. Driving is complicated in Rome and impossible in Venice, and with what you spend on airfare, you could have splurged on a memorable dinner of fried fish and excellent prosecco in Venice.