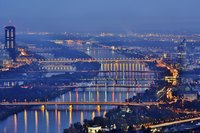 The route from Budapest to Vienna links two cultural, historical and contemporary centers and bridges Eastern and Western Europe. How you get there depends on how much you'd like to spend, and whether you want to get there quickly, or savor every stop along the way.
On the Road
The highway drive from Budapest to Vienna takes about 2 1/2 hours, following the path of the Danube River on the M1 toll motorway in Hungary until it turns into the A4 autobahn in Austria. The route is well-maintained with plenty of rest areas. Check the most recent toll charges for the M1 on the National Toll Payment Services site before hitting the road; pay these at a gas station en route or in advance on the Internet. If you decide to embark on a road trip, the English-language roadside assistance line in Europe can be reached by dialing 112. Carry an international driver's permit or a certified translation of your U.S. driver's license in Hungarian and German. Be sure you're driving a car with snow or all-season tires in Austria between the legally mandated dates of Nov. 1 and April 15.
Take a Bus
OrangeWays runs daily routes between Budapest and Vienna, arriving in either the city center or Vienna International Airport at the Schwechat-Flughafen stop. Fares are generally cheap, and reservations can be made online. Eastern European bus lines can be hit or miss as far as keeping timetables and overbooking, so arrive early to make sure that you aren't left waiting for the next bus. Check your reservation closely for luggage restrictions.
Hop on the Train
The time spent to ride the rails between these two cities varies widely depending on whether you pick regional rail lines or the high-speed train. The luxurious Railjet clocks in at just under three hours for the trip, and has a bar and restaurant serving everything from coffee to a full Austrian meal. Free Wi-Fi keeps you connected. In economy class, a playground and family-friendly movies will keep kids entertained. Make reservations in advance, because this popular route can get booked quickly. Taking regional lines can take almost nine hours as the train pulls into many stations along the route.
Book a Flight
In just under an hour, you can fly from the heart of Hungary to the capital of Austria. Austrian Airlines flies nonstop daily between the two locales with partner Tyrolean Airways. The Budapest Airport, on the southeast edge of the city, includes modern amenities such as luxury shopping and bistros serving everything from Hungarian classics to French baguettes. The Vienna International Airport, about 20 minutes southeast of the city center, is even more posh, with a smorgasbord of high-end designer shops and restaurants before and after the security checkpoints. From this transportation hub, catch a cab, rent a car or board one of the city bus routes to locations within Vienna.