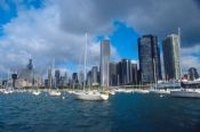 How to Spend the Perfect Weekend in Chicago. The Windy City is an amazing metropolis on the shores of Lake Michigan. Major attractions include world-class museums, professional sports teams and noteworthy neighborhoods. Read on to learn how to spend the perfect weekend in Chicago.
Enjoy 'da Bears'-or one of the city's other pro sport squads-in action. Where else can you find NFL, NBA and NHL action-not to mention not one but two MLB hardball teams?
See bears and cubs of a different nature and much more at the Lincoln Park Zoo on the city's north side. The free zoo is considered to be one of the country's best.
Take a stroll down the Magnificent Mile, a stretch of Michigan Avenue that is upscale, attractive and popular with visitors. Chic retailers are the main attraction here and those seeking a luxurious hotel will find few nicer neighborhoods.
Head out to festive Navy Pier, which features more than half-a-mile of shops, museums, eateries and more. The high-rising Ferris wheel provides an invigorating vista of Lake Michigan and much of Chi-town.
Not far south you'll find the Museum Campus, a trio of museums by Grant Park's south end. The Field Museum intrigues visitors with permanent exhibits that include "Evolving Planet" and an "Underground Adventure" that gives visitors an ant's eye view of life.
Spend an afternoon in the Hyde Park neighborhood on the south side of town. The area, home to the University of Chicago's prominent campus, features worthwhile attractions such as The Museum of Science and Industry and the DuSable Museum of African American History.
Have a night on the town in one of Chicago's many happening neighborhoods. The Old Town sector has a number of red-hot nightspots, many of them on N. Wells Street.