Sharing links in your Blogger posts can make it easier to call attention to your social media profiles, other websites and the work of your friends. It also expedites citing sources for any facts you share or claims you make, or when directing your readers to a related picture. Add links to posts via Blogger's post composer, which spares you from manually entering HTML tags used for linking content.
(Image courtesy of Blogger.)
Step 1
Type the text you want to use for your link. Depending on where the link fits into the sentence, the linked site's name may be the best choice, or a couple of descriptive words as part of the sentence. In this example, "helpful website" is the text viewers would click on.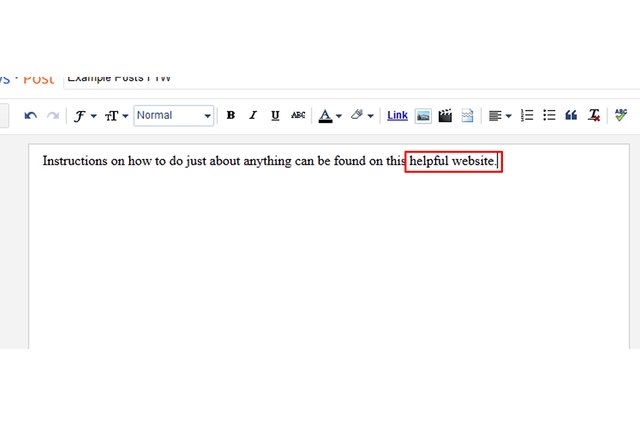 Image courtesy of Blogger.
Step 2
Highlight the text and click "Link." Highlight only the text you want to appear clickable; no matter how long a sentence is, only the selected text will be made into the link. Clicking "Link" launches the Edit Link dialog box, where you'll provide the link's URL.
Image courtesy of Blogger.
Step 3
Type or paste the link's URL into the "To what URL should this link go" text field. Always include the "http://" prefix, otherwise the link won't work. Click "Test this link" to double-check that the URL you're entering is correct. Another browser window will open, revealing the linked website if the URL is correct.
Click "OK" to add the link to the selected text. Repeat these steps as necessary with any further links, but otherwise continue with your post as usual.
Image courtesy of Blogger.
Tips & Warnings
You can also add links without selecting any text and clicking the "Link" button. Enter any text you want to use for the link in the "Text to display" text field.
Promoted By Zergnet