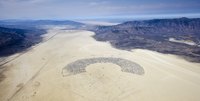 The Burning Man Festival is a week-long event held every year from the last Monday in August to the first Monday in September, overlapping with Labor Day weekend. Over 50,000 attendees gather at a site in the Black Rock Desert north of Reno, Nevada, where the event has been held since 1990. Burning Man is famous for its outrageous and inspirational fashion, and first-timers may be unsure of what to wear. Follow a few simple principles, however, and your Burning Man wardrobe will be both unique and suitable for the harsh conditions experienced during a week spent camping in the desert.
Be Yourself
Burning Man lists "radical self-expression" as one of the core principles of the event. The normal rules of sartorial appropriateness are suspended here. You will see a lot of nudity and a lot of fanciful costumes and outrageous outfits. Some participants take the entire year to plan and construct their wardrobe. Others are more casual. The point isn't to impress onlookers so much as it is to let it all hang out. If you feel like making an elaborate costume, go for it -- but if you feel more like wearing khaki shorts and body paint, that's cool too.
Leave No Trace
Burning Man may have few rules, but the regulations it does enforce are non-negotiable. "Leave No Trace" is another core principle of the festival, and organizers take it seriously, in part because, if they don't, state officials could shut the event down. Burning Man organizers particularly encourage attendees to prevent MOOP, which stands for "matter out of place." In terms of what to wear, this means no feathers, no glitter and nothing else that could easily be blown away by the wind or make a mess. If you break this rule, you could be tossed out of the festival or denied entry in the first place.
The Basics
Your Burning Man clothing survival kit should contain a few key items. Pack a sturdy pair of shoes that you can stand in and walk around in comfortably for long periods of time; a spare pair never hurts. Pack a hat, goggles and a face mask to keep out the dust. Remember that, while the desert may be parching hot during the day, it cools down at night, so pack a sweater or hoodie for after hours. Definitely pack plenty of sunscreen. A sunshade or parasol is a good idea, too, as are sunglasses.
Suggestions
Dressing up for Burning Man shows that you're not just an observer, but, in accordance with the festival's "Participation" core principle, an attendee who wishes to contribute to the creation of this alternative cultural space. Choose visually striking motifs and incorporate them in your wardrobe as you see fit. If you love neon pigments, wear them. If you can never get enough animal print, pack it all. Futuristic, neo-tribal, steampunk and raver aesthetics are all common on the playa. Think in terms of layers, breathable fabrics, ease of movement and light colors; dark colors absorb the heat of the sun. If all else fails, consult with one of the many mini-businesses that have sprung up to assist Burners with their fashion needs.