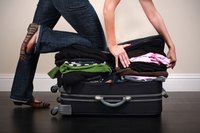 How to Pack for a Weekend Trip. The trick is to pack a few items of clothing that work well with each other and can be interchanged.
Things You'll Need
Toiletries
Toiletry Bags
Travel Clothes
Makeup Kits
Luggage Sets As Needed
Pack both a black T-shirt and a white T-shirt, plus one sweater or cardigan.
Toss in your favorite pair of blue jeans. An additional pair of casual pants, such as khakis, will serve you well.
Bring two pairs of shorts if you expect warm weather or a windbreaker or jacket if it will be cold or rainy.
Remember to bring three pairs of underwear and two pairs of socks.
Pack your nightgown or pajamas.
Wear a pair of comfortable, casual shoes such as loafers, sneakers or flat sandals while traveling. Bring dress shoes if needed.
Include a small toiletries bag with just the essentials - hairbrush, toothbrush, toothpaste, soap, shampoo, deodorant, razor, moisturizer and makeup. Pack travel-size toiletries, if possible.
Bring the requisite wallet, ID, cash, organizer, reading material and so forth.
Bringing a map, driving directions, and details about your destination is essential. Get ideas online and then print the information you need before your trip.