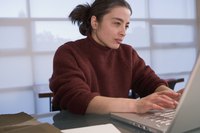 Writing a letter of recommendation for an employee, co-worker, or other acquaintance can seem like a chore, but she will surely appreciate the effort you put into singing her praises. The best letters are both effusive and sincere, which requires a special touch.
Ask the letter requester for a copy of all the information you will need to write the best possible letter of recommendation. This should include not only the requester's resume and list of projects she has worked on or other qualifications, but also a list of points she would like emphasized in the letter.
Find out if there are any special forms that you should use or procedures that you need to follow. Often completed letters must be sealed in an envelope with your signature across the flap.
Begin the letter with a statement of your name and position, the requester's name and position, how long you have known her, and in what capacity. This statement should establish your ability to accurately evaluate her.
Describe two or three of the requester's most notable qualities or skills, giving specific examples of how he has demonstrated those qualities in the past. Areas to consider include the requester's intelligence and analytic ability, level of experience, organizational skills, reliability, and ability to work with others.
Compare the letter requester to others you have known in a similar capacity. If possible, quantify the comparison, for example, "Of the nine assistants I have had, Mary is the very best."
Consider including some modest criticisms of the letter requester. If she has made some progress overcoming a shortcoming recently, mentioning it here can improve your credibility.
Conclude the letter with your overall assessment of the requester and his or her suitability for the position she is seeking. The language should be strong, but not overblown or insincere.
Add your contact information and an offer to respond to follow-up questions if you are willing to do so.
Save a copy of the letter. It will save you a lot of time and effort should she need another letter in the future.
Mail the letter or deliver it to the requester on time.