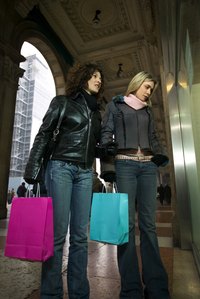 Leather-making in Italy has been the pride of local craftspeople since before World War II. Most of the leather production happens in the Santa Croce neighborhood in Florence, and according to Industry Week, leather is also a major industry in Solofra, right outside of Naples, and Arzignano, in the northern Veneto region. Shopping for Italian leather at its source is cheaper than buying in the U.S. and you'll have a wider variety. You'll still pay a premium in high-end shops -- or you can haggle for a bargain on the street.
Brand Name Italian Leather
When a desire for Prada, Furla, Ferragamo, Gucci, Fendi, Dolce and Gabbana and Giorgio Armani drives you to find the best in Italian leather, shop for your shoes, belts, purses, briefcases and accessories in a boutique in one of Italy's fashionable cities. Hit the Spanish Steps in Rome, where you'll find designer labels in the surrounding neighborhoods, or check out Santa Croce in Florence, where most brands have not one but two or three shops. In Milan, visit the Quadrilatero d'Oro, where you'll find leather goods in Versace and Roberto Cavalli.
Shopping at the Markets
If you don't feel like spending a mortgage payment on a pair of shoes, you can find great deals at the outdoor markets in Italy. San Lorenzo Market in Florence features hundreds of stalls with leather bags, wallets, belts, jackets and other products made in Italy. The dealers speak excellent English and are always willing to make you a deal. Heed their calls of "special price for you" and tell them what you're willing to pay. You'll leave with a bargain and a fine piece of Italian leather.
Shop Outside the Cities
Outlet shopping is not something the Italians advertise, but it's available if you know where to find it. Outside of Florence you'll find warehouse outlets for Fendi, Valentino and Gucci leather at The Mall. Shuttle buses move back and forth from the center of Florence to the outlet, which is 30 miles outside the city. The designer outlet chain McArthurglen has stores outside Milan, Venice, Naples and Rome. For leather souvenirs, browse the small shops in towns like Siena, Orvieto, Lucca and hilltop villages surrounding Florence. In many cases, you'll find craftspeople at work while you shop.
Purchase Considerations
You can shop for different types of Italian leather. Lambskin is great for jackets and gloves, and suede works best for furniture. Italian merchants love the opportunity to explain the differences to shoppers. You'll find a lot of faux leather knock-offs peddled by unlicensed merchants on the street, especially in larger cities. If you see a bunch of purses spread on a blanket being sold with cell phone cases, umbrellas or packages of socks, it's probably not real Italian leather. Be sure to declare your leather items on your U.S. Customs Declaration form when you return to the United States. You won't have to pay any duty taxes on leather items that were less than the amount set by the U.S. Customs and Border Protection ($800 at time of publication).