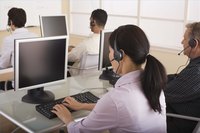 How to Conduct a Telephone Survey. The telephone survey is one of the most common methods of market research. It's also a fairly simple method, but follow these basic rules to ensure a professional survey with valid results.
Things You'll Need
Telephone Book
Market Research Calculators
Telephones
Notebooks
Office Supplies
Pencils Or Pens
Marketing Software
Develop and pretest a telephone survey questionnaire (see "How to Write a Survey or Questionnaire," under Related eHows). Keep the questions relevant and direct.
Obtain a random sampling of telephone numbers to use in the survey. You can buy lists of random telephone numbers that are generated by computer programs, or you can develop your own list from local telephone directories.
Decide who in the household is most likely to provide the most meaningful input to the survey, and ask for that person specifically. For example, if the goal of your survey is to determine buying habits, the participant should be the person most responsible for that household's purchases.
Call each potential participant. Politely explain the purpose of the survey as well as who the sponsor is and approximately how much time the survey will take.
Conduct the survey. Read each question in its entirety to the participant and record the response. Repeat the question if necessary, but avoid interjecting any comments or explanations that could sway the participant's opinion. Keep the participant on track so that the survey is completed as quickly as possible.
Gather, organize and evaluate the results of the survey.