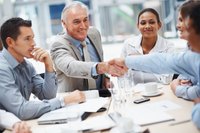 How to Keep Clients Happy. Happy clients are repeat clients and are the key to a successful business. Here's how to keep yours content.
Put the client's needs first. If you focus on your client's success, your own will follow. It is very simple to make your customer get more business simply by allowing them to post their business cards on your wall.
Help your client network. It never hurts to do a client a favor above and beyond the call of business, and it's something the client remembers.
Keep in contact with your client. Friendly phone calls, tips and informative newsletters can help your client remember you. Don't forget small gifts.
Don't make promises you can't keep. You're better off exceeding expectations than disappointing a client by eagerly promising something you can't do.
Communicate. If a project runs into problems, let your client know as soon as possible that so alternative plans can be made if necessary.