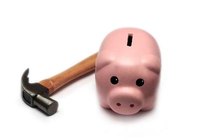 How to Invest With $25,000 or Less. If you find yourself with an extra $25,000, there are a variety of ways you can put it to work for you.
Things You'll Need
Financial Calculator
Brokerage Accounts
Personal Financial Software
Hire a financial adviser to help you develop a plan. Assess your financial situation and set goals.
Pay off high-interest debt such as credit-card loans.
Set aside three months of income to draw on if you lose your job. Keep it in an interest-bearing account or mutual fund.
Make sure you are taking maximum advantage of your employer's 401(k) offering. If not, maximize the investment. Choose mutual funds that match your goals and your appetite for risk.
Invest in your employer's employee stock purchase program if one is available. You may be able to buy shares in your company at a 10 percent to 15 percent discount and then sell the shares at a profit.
Pay down some of the principal on your home mortgage. Make sure there isn't a prepayment penalty before you act.
Consider starting your own small business. The money you make selling hot dogs or shoveling snow will pay for your equipment and give you something to fall back on if layoffs hit your regular place of work.
Put some money in an aggressive-growth mutual fund and save it for emergencies, your children's college or a new car.