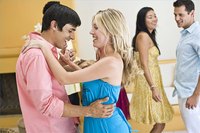 How to Dress for a Casual Night Out - Men. Adhere to a few quick tips to look suave on a casual night out, be it to a sports bar or lounge, informal dinner party or restaurant.
Things You'll Need
Men's T-shirts
Men's Dress Shirts
Men's Dress Shoes
Mens' Dress Pants
Mens' Sweaters
Cologne
Look and smell clean. Style your hair and shave off the five o'clock stubbly bits; use cologne sparingly; check under your fingernails for dirt.
Dress in layers. Try a collared shirt, either button-down or polo, beneath a casual jacket. Or wear a T-shirt under a crew or V-neck sweater in wool or cashmere. A mock or full turtleneck can also look stylish.
Experiment with how close-fitting your shirts and sweaters are.
Wear jeans, khakis or slacks, depending on how casual the outing is. Flat-front pants look more casual than those with pleats.
Remember that pants should be long enough to drape comfortably over the tops of your shoes without scraping the ground.
Select socks tastefully: No white athletic socks with dressier, nonsneaker shoes. No light socks with dark pants. If you anticipate taking your shoes off at any point, verify that your socks are hole-free.