How to Dress for a Job Interview: Men
The great news is that your resume made an impression and you've landed an interview. The downside? You have absolutely no clue what to wear.
Perhaps you're a recent college graduate with no experience in office-job interviewing; or maybe you're hungering for a transition from a button-down law firm to a more creative position at a design or Internet startup.
Whatever your situation, some interview ensemble tips and style advice from a number of human resources professionals and men's fashion experts will have you dressing for that all-important interview with confidence and finesse.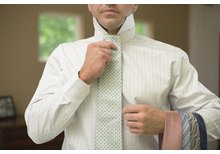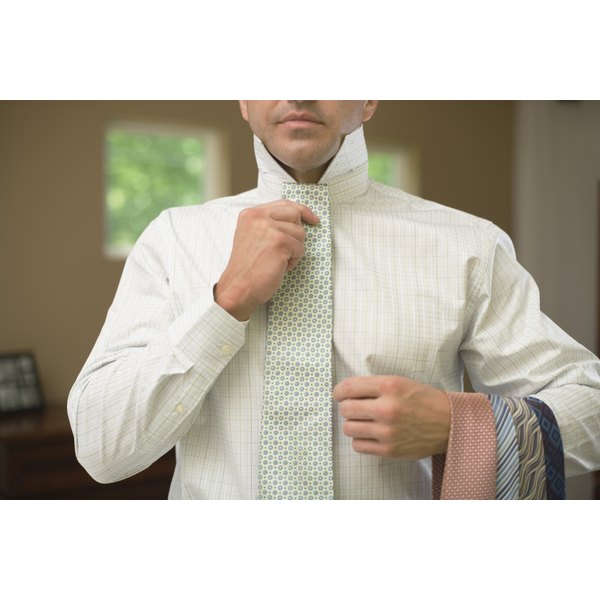 Viewing 1 of 9
Overview
You never get a second chance to make a first impression." Especially at a job interview. When meeting a potential future employer, you always want to put your best foot forward. It's like the first day of school all over again -- you're anxious, excited and ready to impress, but what will you wear?
Jupiterimages/Brand X Pictures/Getty Images
Viewing 2 of 9
First Things First -- Fit
Your interviewers will take you more seriously if your clothes fit well. Baggy pants and ill-fitting tops swallow you whole and make you look unprepared and unprofessional. If getting a fitted suit means a trip to the tailors, then take a trip to the tailors.
Jupiterimages/Polka Dot/Getty Images
Viewing 3 of 9
Shirts and Shirt Sleeves
The key to smart-looking shirts is the sleeve length. Your shirt should hit you right on the wrist bone and your jacket should be 3/4 of an inch shorter than your shirt.
Jupiterimages/Photos.com/Getty Images
Viewing 4 of 9
Jackets
Remember the importance of a good fit? Herein lies the key piece of your form-fitting ensemble. A tailored jacket will make any outfit look instantly better, so if you can only invest in one staple piece before bringing in that first paycheck, this is it.
Jupiterimages/BananaStock/Getty Images
Viewing 5 of 9
Pants
With pants, length is crucial. You can find the "break" -- the place where your pant leg hits the top of your shoe -- by measuring from the inseam to the floor, but this is difficult to do without assistance (and will be of little help without a sewing machine). A little sewing experience can also be of help. If this all sounds too complicated: "Use a well-respected tailor to create your cuffs and you needn't worry," noted designer Robert Verdi says.
Jupiterimages/BananaStock/Getty Images
Viewing 6 of 9
What Not To Do (Common Interview-Ensemble Mistakes)
"The single biggest faux pas is that if you are wearing a collar that's too big for your neck," Verdi says. "The shirt should fit; you should not be able to fit more than one finger between your collar and your neck. Your tie should be snug and cover the top button of your shirt."
Digital Vision./Digital Vision/Getty Images
Viewing 7 of 9
Interviews at Casual Offices
"I call it 'undergraduate chic,'" Verdi says. "Always wear a button-down shirt. It doesn't require a suit or a tie, but you could wear a V-neck sweater over the shirt. Definitely wear trousers and a jacket."
Hemera Technologies/AbleStock.com/Getty Images
Viewing 8 of 9
Interviews at Suit-Wearing Firms
"The myth is if you go to a conservative firm that you shouldn't express your personality. You absolutely should show some flair: through your tie or socks," Verdi says. "You can get a bit whimsical with tie color at a traditional firm. You don't want to go crazy with patterns, but vibrant colors, say, a peony-and-navy-blue tie would work well. Go for refreshing, masculine, strong colors."
Hemera Technologies/AbleStock.com/Getty Images
Viewing 9 of 9
Using Your Closet to Climb The Corporate Ladder
"If you play your cards right, you can use fashion to create interest in the person you are," Verdi says. "Be someone that people are interested in getting to know better."
BananaStock/BananaStock/Getty Images
Interview: Scheduled
If you're confused about what to wear, you're not alone. Now is an interesting -- and sometimes confusing -- time in men's business fashion, and the status quo is evolving.
"These days, men are really changing," says Cator Sparks, editor-in-chief of the high-fashion blog LookBooks.com. "Men are much more interested in grooming and fashion than they used to be."
Knowing that, you may need to step up your game a bit to compete.
"It's critical that you know your audience and know exactly the position you're interviewing for," says Bucky Keady, vice president of human resources at Manhattan publishing giant Time Inc. "The attire that you'd wear to [an interview for a position with a] scrappy blog would be very different than if you're coming to see me for an executive finance position." The former position would likely not require a suit, tie and wingtips, while the latter absolutely would.
Your ultimate goal in dressing for an interview is to show not only respect for your interviewer, but also that you fit in with the culture of the corporation.
"People in the Silicon Valley and small startups do dress a lot more casually. The rise in IT culture has really caused a lot of change in workplace attire," says Ryan Namata, senior recruiter at the Society for Human Resource Management in Washington, D.C. As a general rule, though, it's best to always bump up the formality of your interview ensemble a few notches from what you'd expect to wear on the job. The time for casual style is after you've landed the position, but always take clues from your co-workers' ensembles -- at any job -- to know what's appropriate.
Yamata, stressing the importance of dressing up for an interview, notes one of the most pointed reasons you should never hesitate to put effort and care into choosing your interview outfit: "We [interviewers] make up our minds about someone within five minutes of meeting them." It's imperative, therefore, you make a great impression right out of the gate.
Style Preparation
Perhaps you're confident that your skills and experience speak for themselves. But in this tough job market, take advantage of anything that might set you apart from the rest. A great deal of thought and preparation needs to go into your personal appearance and interview attire.
"Always remember that at a job interview, you are marketing yourself," says Time Inc.'s Keady. "Everything you do is a reflection on the brand called 'You.' Really be self-reflective on how you are going to present yourself. Do your homework. There is so much info out there that there's really no excuse to not know."
A number of the experts suggest using the power of the Internet to prepare. Not only should you research the company with which you'll be interviewing, but the people you'll be meeting as well.
Sparks and Keady point out that online research will often lead to photos of those in the corporation, particularly on sites such as Tumblr, LinkedIn or Facebook. The glimpses provide you with a sense of these people's personal style, at both work and play, and the opportunity to dress in a similar manner for the interview.
And Keady has another smart preparation tip for job applicants. She suggests going to the office where you'll be interviewing the day before the meeting -- both to route and time the commute and to get a sense of the company culture. Walk around the lobby and observe what the employees are wearing.
"Standing for five minutes in the Conde Nast or Goldman Sachs lobby can tell you so much," she says.
The Rules
When it comes to the rules of interview fashion, even the experts have difficulty reaching a consensus. After all, things aren't always straightforward and absolute. Sometimes there might be a bit of room for a judgment call.
Keady says that if she's interviewing someone for an art director position, for example, the prospective employee can occasionally get away with a somewhat casual ensemble -- even sneakers -- "as long as they're new and clean," she says. "I have hired men wearing Adidas."
Glen Hoffs, fashion director at Brooks Brothers, agrees with Keady, saying that for jobs in the more creative sectors, a lot of the old-school style rules have been thrown out the window. But, he adds, in the end, it's important to tailor yourself to the job you're after.
Keady does mention a few specific situations that positively require a suit: "If you're interviewing with me for a CFO position -- or any job in banking, finance or at a law firm -- always pull out the suit and tie."
And Namata goes even further, maintaining that, no matter what the position, you should always wear a suit to an interview. "Here on the East Coast, we're still focused on the suit," he says.
Two rules had all of the experts in full agreement, though: prep your shoes and match your belt.
"Always have your shoes freshly polished if you're wearing leather. Nothing looks worse and more untidy than worn, scuffed shoes. And don't even think the interviewer won't be checking them out," says Keady.
Sparks, too, values the belt and shoe details. "I'm a big matching fan. Your shoes should go with your belt," he says.
The Source of Good Things
Once you have a basic idea in mind for your interview style and what type of clothing you'll need, it's time to go shopping and track down that look.
Hoffs has a clever piece of advice for those in the market for interview attire. He advises finding a salesperson whose sense of style you like, trust and is in keeping with the character of the business in which you'll be working. This person can be a terrific resource even after your interview outfit is purchased, perhaps tipping you off when new stock arrives in your style, holding items in your size and even alerting you to "secret" sales.
Sparks, too, offers a few helpful tips on finding your fashions. "J. Crew has great off-the-rack suits, especially the Ludlow. It's one of their best styles, and it costs about $800."
"For the upper echelon," Sparks adds, "I would say go bespoke. Lord Willy's in Manhattan makes fantastic suits. There's also a company called Ascot Chang. You can send in your measurements and get shirts made for $80 each, handmade in Hong Kong."
Anything made-to-measure will always fit you much better, often highlighting the strong points in your physique while camouflaging any flaws.
"If you're applying at a more casual place," says Sparks, "wear a beautiful cardigan and a button-down and a tie -- worn with a tie clip for some extra flair -- and a nice pair of trousers that fit perfectly. I'm a big fan of tailoring."
So although, as Brooks Brothers' Hoffs points out, "there's a much wider path of acceptability for creative fields," play it safe. Follow your best judgment, but allow a bit of your own personal flair to shine through.
After all, Sparks notes, the greatest value of fashion is that it can help you stand out in a sea of applicants, a wonderful thing in this time of fierce competition for jobs.