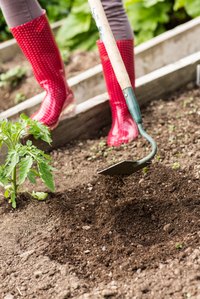 The common garden hoe is a cutting tool that rarely, if ever, gets sharpened. But a sharp hoe will cut through weeds, roots and heavy soil much better than a dull one, making for easier work. A new hoe's cutting edge is a single bevel along the bottom edge of the blade. You want to re-create that edge bevel as you sharpen the hoe.
Things You'll Need
10-inch flat mill file
Vise or clamp
Old rag
Medium-grit sandpaper
Coarse steel wool
Work gloves
Safety goggles
Wash mud or dirt off the hoe blade with water and an old rag. Clean rust from the blade with medium-grit sandpaper followed by scouring with coarse steel wool. Secure the hoe to a workbench with a vise or clamp so the blade edge faces up. Place your flat mill file on the angled side of the blade's cutting edge at approximately the same angle as the blade's original edge. If you can't tell the angle of the original edge, place your file at about a 30-degree angle across the blade edge.
Stroke the file across the blade edge repeatedly, simultaneously pushing forward and to the side. Maintain the angle of the hoe blade's cutting edge. Stroke the file away from you. Stop when you have created a shiny sharp edge about a quarter-inch wide across the entire width of the blade. As you work, dip the file in water frequently to wash metal filings out of the file's teeth. Don't use cutting oil when sharpening a hoe. The metal filings will cling to the oil film and clog up the teeth of your file.
Watch for a slight edge burr to develop on the backside of the blade edge as you file. This burr is a sign that your sharpening strokes are effective. After sharpening the blade, remove the burr by laying your file flat on the opposite side of the blade, parallel to the edge, and running the file lightly along the blade edge to take down the burr. When working with the sharpened hoe, touch up the edge with a file whenever you start feeling like the hoe is having difficulty getting through the weeds.