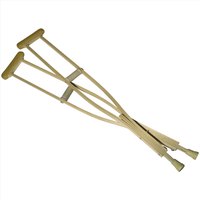 How to Find Crutches. Most people need to use crutches temporarily, to keep the weight off an injured leg. Depending on how long you'll need them, you can either buy, rent or borrow crutches.
Ask your doctor. You may be able to borrow crutches right from the office. Your doctor may also be able to direct you to a source for obtaining crutches.
Check with your insurance company. If they cover the cost of crutches, they may have certain designated suppliers.
Speak with your therapist, if you are having physical therapy. He or she will know where you can obtain crutches.
Figure out how long you will need crutches. If it's for several months, it will probably be less expensive to buy them rather than renting.
Borrow a pair. Ask friends, neighbors, family and co-workers if they have a pair or know of anyone who has used crutches recently.
Call medical supply stores. Look in your local yellow pages.
Look up medical supply houses on the Internet. Shop around for the best price.