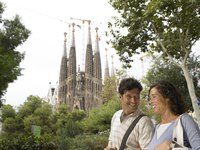 Whether eating tapas outdoors on a brisk autumn afternoon in Galicia, dancing the evening away in a ritzy Barcelona nightclub or enjoying a beach-side siesta under the Andalusia summer sun, wearing the right clothing adds an element of comfort to your journey through Spain. In some instances, you'll want to pack the right clothes as a demonstration of respect for Spanish customs and culture.
Northern Exposure
Portions of the northeastern region of Galicia, nestled along the Atlantic Ocean, and the Pyrenees Mountains, in northwestern Spain, experience particularly cold winters, including heavy snowfall and near freezing temperatures in December. Wool jackets, scarves, knit caps and gloves help protect against the cold blasts. Bring ski jackets, waterproof pants and ski goggles if you plan to visit one of the three dozen ski resorts in the Pyrenees. Galoshes come in handy during the heavy rains in the north in January and February. Temps remain cool throughout the region from September to April, making warm clothing a necessity, so pack sweaters, jeans and leather boots. Bring plenty of layers if you visit from May through September, when the days include sunny skies but the evening temperatures drop considerably. Consider tank tops under long button-down shirts, leggings or jeans, cardigans, and light jackets and scarves.
Heading South
The southern region of Spain, Andalusia, has a relaxed attitude. Jeans, simple button-down shirts and flats or tennis shoes are not out of place, particularly during the mild spring and fall. Temperatures dip slightly in the winter, so make sure you pack pullover sweaters, a jacket and closed-toe shoes or boots. Whether inland in a city such as Seville or along the coast in Cadiz, summer days in the region are usually scorchers and require shorts and tank tops for comfort. Wide-brim hats and oversiz sunglasses protect against the sun. Breathable jersey maxi dresses help women stay cool and are fancy enough for dining out in the laid-back region. Men can wear khaki pants and short-sleeve shirts for a casual dinner. Be prepared for the cobblestone streets in Seville by bringing twill sneakers or oxfords and an evening of dancing with thick, stacked heels.
Madrid Madness
Madrid, the nation's capital, is known for its bustling nightlife and rich cultural scene. Residents in the elegant city wear upscale wardrobes, particularly while dining out in the evening. Bring your little black dress, which you can dress up with costume jewelry and chic handbags. Men should pack dress slacks, long-sleeve dress shirts, a jacket and tie. Madrid experiences particularly hot and dry summers that sometimes last until mid-October. Stay cool during this period with cotton skirts, linen pants, Bermuda shorts, tank tops and sensible sandals, preferably with thick soles to walk on the city's cobblestone streets. In Spain, flip-flops are rarely worn in public and are reserved almost exclusively for around the house, so leave them at the hotel. You should bring a scarf or shawl to cover bare shoulders as a sign of respect when visiting area churches and cathedrals, such as Catedral de la Almudena. Layer up for the late autumn and winter with outfits such as wool dresses with tights and boots or khakis with pullover sweaters, all topped with a pea coat, scarf, hat and gloves. Unfortunately, Madrid is home to a high number of pickpockets, so consider bringing a money belt or courier bag you can strap across your body.
East Side Story
Nestled along the Mediterranean Sea on Spain's east coast, Barcelona is home to sprawling white sand beaches. If you visit from May through August, bring a bathing suit, a hat with visor, sunscreen, lip balm, sunglasses and reading material tucked inside an oversize beach bag. Women can don a jersey cover-up and sandals for a quick lunch or afternoon drink at a casual oceanfront cafe, while men can wear shorts and a T-shirt. Whether visiting sacred sites, such as La Sagrada Familia, or out for an afternoon of high-end shopping along Passeig de Gracia, change into such outfits as a casual cotton dress and flats with thick soles or cargo pants paired with a button-down shirt and athletic shoes. Although Barcelona has a relaxed vibe, for a night out on the town you should take things up a notch with a cocktail dress or dress pants with a button-down dress shirt. Elegant clothes, such as suits and formal dresses, are only required for events such as a night at the opera. Bring warm clothes from November through February when the temperatures dip into the 40s, and an umbrella for the rainy season in September and October.