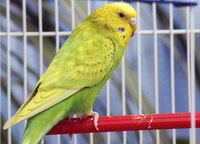 You probably feed your pet bird a nutritionally complete commercial bird food, but that doesn't mean he can't enjoy some homemade food in his diet. Making homemade bird food runs the gamut from cooking various grains and vegetables into an avian pate, to offering your bird some healthy fruit and veggie snacks. The two of you can share the latter.
Eating With The Birds
Birds aren't adventurous eaters by nature. That's why sharing your homemade recipes with your birds can encourage them to try out these new foods. If it's good and safe for you, they'll figure it's just fine for them. Let your bird try cooked rice, grains and yams, and fresh or cooked veggies and fruits. You can even let your bird try dishes containing eggs, which can contain the shells if you're cooking just for him.
Veterinary Recipe
If you want to convert your bird from a primarily commercial seed or pellet diet to a healthy, primarily homemade diet, the avian veterinary hospital Chicago Exotics recommends this recipe. Combine equal portions of boiled rice -- either white or brown -- mixed vegetables and boiled beans. The latter might consist of kidney, lentil, lima, pinto or navy beans or chickpeas or black-eyed peas. While fresh vegetables are preferred, you can use frozen or canned varieties. Freeze this mix until you're ready to feed your bird. Then thaw one-quarter cup, adding another quarter-cup of bird pellets or seeds, along with a quarter-teaspoon of a multivitamin supplement and one-eighth teaspoon of dicalcium phosphate. You can use this recipe for three-quarters of your bird's diet, with the rest made up of vegetables and fruits.
Quinoa for Birds
Quinoa, a highly nutritious grain, has become quite trendy in recent years. There's no reason your parrot can't partake in the latest food fashions. It's high in calcium and has a pleasant, nutty taste. Cooking quinoa is similar to cooking rice. You can make a batch for yourself and your bird. He can either consume his quinoa plain, or you can mix in some veggies and/or chopped nuts. Stick quinoa seeds in a water glass, leave them for a few hours and you should find that they've germinated. Your birds should enjoy the germinated sprouts as a snack.
Foods to Avoid
While birds enjoy many homemade meals and treats, you should avoid adding certain items. While it's unlikely you'd offer your pet foods containing caffeine or chocolate -- both toxic to birds -- you might not realize that avocados also can contain substances that can poison your bird. Not all veggies are safe. Birds shouldn't eat rhubarb or spinach. Don't put salt in your bird's recipes, and keep onions out as well. Milk products are out -- birds can't digest them. Avoid fried and fattening foods. When feeding apples, remove the seeds. When feeding any type of pitted fruit, such as peaches or cherries, remove the pits before giving the fruit to your bird.