When it comes to water-wise gardening, fruit trees often pose the greatest challenge. That's because many fruits have high water content, and their trees need rain or watering to produce a good harvest. But whether you live in a desert climate or more temperate zone, you can still pick trees that tolerate dry soil.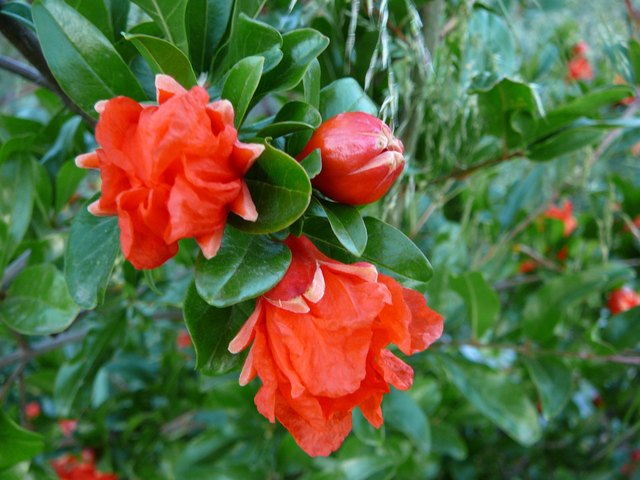 Most Drought-Tolerant
The California Rare Fruit Growers association rates jujube (Ziziphus jujuba) trees as "extremely" drought tolerant, meaning that they won't need watering after the seedling stage. With most varieties bearing best in U.S. Department of Agriculture plant hardiness zones 6 through 10, jujube trees are extremely tolerant of dry soil and high temperatures. Generally, these low-water trees rarely grow taller than 15 feet. When picked fresh in late summer to early fall, the fruits are similar to apples. Leave them on the tree and they develop a taste and texture reminiscent of dates.
In cooler climates, try the variety 'Li,' (Ziziphus jujuba 'Li'), which grows in for USDA zones 5 through 10. For extra sweetness, try 'GA-866,' (Ziziphus jujuba 'GA-866') which grows in USDA zones 6 to 10.
Highly Drought-Tolerant
Pomegranates (Punica granatum, USDA zones 8 to 10) are "highly" drought tolerant, notes CRFG. This means they can survive with no supplemental watering after their first growing season, but will bear larger fruits if you give them some water as they grow. Like jujubes, pomegranate trees are compact, and reach about 15 feet tall. They produce both showy pink flowers, in spring, and their famous seeded fruits in the fall. If you're in a slightly cooler climate, you may find that Russian varieties, such as 'Salavatski' (Punica granatum, 'Salavatski,' USDA zones 7 through 10) or 'Kazake Hardy,' (Punica granatum, 'Kazake Hardy,' USDA zones 6 through 9), will work for you.
Persimmons (Diospyros kaki) bear in the fall. American varieties grow in USDA zones 5 through 9, and grow up to 35 feet tall. The more compact Asian versions stay at around 15 feet, and grow in USDA zones 7 through 11. Varieties are classed as either "astringent," meaning they need to be picked and given time to soften before they are suitable for eating; and "non-astringent," which can be eaten fresh from the tree.
Tip
Other fruit trees in the "highly drought tolerant" category include:

Jelly palm tree (Butia capitata, USDA zones 8b through 11), a 20-foot palm which bears small yellow fruits that work especially well for jelly-making.
Loquat (Eriobotrya japonica, USDA zones 7 through 10) produces fruit resembling and tasting of a yellow plum, with a touch of citrus flavor. The trees grow 20 to 30 feet tall.
Quite Drought-Tolerant
Some fruit trees need some watering to survive dry climates, but can go weeks between watering sessions. These include the compact che tree (Cudrania tricuspidata, USDA zones 6 through 9), which needs to be grown in pairs for the female tree to bear fruit. The fruit itself resembles raspberries, but tastes like watermelon.
The che's taller near-relative is the mulberry tree (Morus spp., USDA zones 4 through 8). Black mulberries, the smallest trees, are reliably hardy only in USDA zones 6 through 8 and grow to about 25 feet. The taller red and white varieties grow up to 40 feet, and the fruits are sweeter than those of the black mulberry.