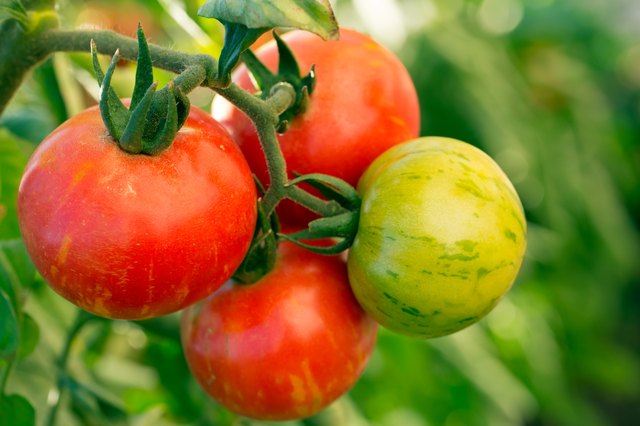 Scorching days and balmy nights take a toll on tomato plants (Solanum lycopersicum), affecting fruit production. Extra care and attention will help tomato plants survive a short heat wave, but if you live in an area with long, hot summers, choosing a heat-tolerant variety will make a world of difference between having a bumper crop and a poor harvest.
The Basics
Daytime temperatures above 90 degrees Fahrenheit and nights above 75 F both cause tomato blossoms to dry up and drop, which stops the fruit production. Most tomato plants will recover and go on to bear fruit if the high temperatures only last a week or so, although long-term heat will stop even well cared-for tomatoes in their tracks.
Heat tolerant, or heat set, varieties withstand sizzling temperatures and they come in a range of types, from hybrid cherry tomatoes to hearty heirlooms.
Hybrid Varieties
Hybrid tomatoes often have a greater tolerance for heat and poor growing conditions than traditional, open-pollinated heirloom types. Many hybrid heat-lovers also resist common diseases and humidity, making them a reliable choice for warmer climates.
Round Types
Large, round tomatoes—or "red rounds"—come in a rainbow of colors and flavors. Varieties such as 'Volante' (Solanum lycopersicum 'Volante') and 'Solar Fire' (Solanum lycopersicum 'Solar Fire') both bear reliably in hot, humid conditions, producing large, smooth fruit in early to midseason.
In hot, dry climates, such as the Southwestern deserts, you may have better luck with varieties such as 'Phoenix' (Solanum lycopersicum 'Phoenix'), which is a bushy tomato that bears its fruit over a one-week period. Another suitable type for desert climates is 'Early Girl' (Solanum lycopersicum 'Early Girl'), which produces medium-sized fruit with sweet, mildly acidic flesh. It is not labelled as a heat set tomato, but it still performs well when temperatures rise.
Cherry and Plum Tomatoes
Small and packed with flavor, cherry and plum tomatoes come in countless varieties. The vigorous, yellow-fruited 'Lollipop' (Solanum lycopersicum 'Lollipop') tomato bears 1-inch-diameter fruit on sprawling vines, while red-fleshed cherries such as 'Sweet 'n' Neat' (Solanum lycopersicum 'Sweet 'n' Neat') and 'Husky' (Solanum lycopersicum 'Husky') produce abundant fruit on compact, bushy plants suitable for pots.
One high-yield, heat resistant plum tomato variety is 'Rio Grande' (Solanum lycopersicum 'Rio Grande'), which withstands extreme temperatures and bears in just 75 days.
Tip
Heat-tolerant hybrids often have some allusion to heat or sun in their name. For example, 'Solar Fire' and 'Heatmaster' (Solanum lycopersicum 'Heatmaster').
Heirloom Varieties
Also called open-pollinated varieties, heirloom tomatoes come in several heat-tolerant types. Their heat tolerance is less developed than most hybrid types, but they often have better flavor and their seeds can be saved and grown year after year.
Round Heirloom Types
One notable variety of heat-loving heirloom is the Italian 'Costoluto Genovese' (Solanum lycopersicum 'Cosotluto Genovese'), which is a beefsteak-style variety with rich, heavily lobed fruit. Heat intensifies the flavor, making it a good choice for gardens in Mediterranean climates.
The pink-fleshed 'Arkansas Traveler' (Solanum lycopersicum 'Arkansas Traveler') performs well in hot, humid climates, as does 'Mortgage Lifter' (Solanum lycopersicum 'Mortgage Lifter'), an indeterminate variety noted for its meaty fruit, which can reach 1 to 3 pounds.
Cherry and Plum Heirloom Varieties
Heirloom cherry and plum tomatoes share the same dainty size as hybrid types, but often with a more nuanced flavor. The 'Yellow Pear' cherry tomato (Solanum lycopersicum 'Yellow Pear') sets clusters of sweet, pear-shaped fruit with mild, yellow flesh.
Red-fleshed heirloom plums, such as 'San Marzano' (Solanum lycopersicum 'San Marzano'), bears fleshy, flavorful fruit all summer long.
Tip
Indeterminate tomatoes are vining and produce fruit throughout the growing season, while determinate types tend to be bushy and produce their fruit all at once.
Hot-Weather Care Tips
Whether growing tomatoes in a hot climate or during an unexpected heat wave, they need extra care to help them thrive. When temperatures soar, provide:
Mulch. A 2- to 3-inch layer of breathable mulch, such as straw or grass clippings, helps keep the soil moist and protects the tomato's roots. Don't let the mulch touch the tomato plant stems.

Extra water. Check the soil moisture twice daily and water if it feels dry 1 inch below the surface. Avoid splashing water onto the leaves and fruit.

Shade. Tomatoes perform best with eight to 10 hours of direct sun, but it can be too intense during periods of extreme heat. Cover the tomato plants with a wooden frame or hoop cover, then drape it with 50 percent shade cloth.

If your tomatoes are in pots, move the pots to a sheltered spot with afternoon shade and monitor the soil moisture closely until the hot weather passes.
Tip
Harvest any fruit with a hint of ripeness if daytime temperatures above 100 F and nighttime temperatures above 80 F are in the forecast. Let them finish ripening indoors.