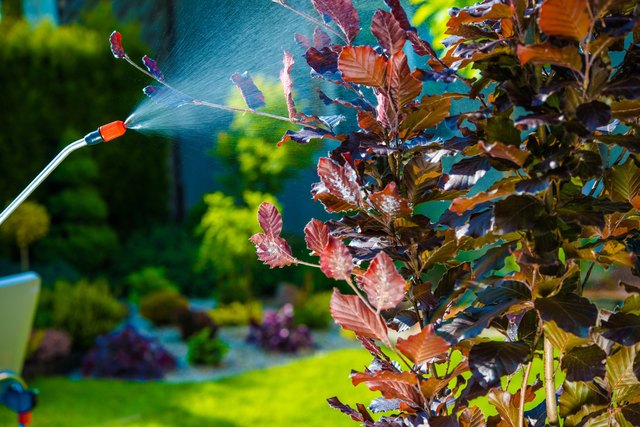 More than 8,000 species of fungal and fungal-like organisms can cause diseases in plants. So it's hardly surprising that fungal diseases are common problems in home gardens. Although prevention of diseases through proper cultural care is always preferable to treatment, fungicides can be effective tools against these frustrating foes. Understanding how fungicides work is key to using them effectively.
Types of Fungicides
The two main kinds of fungicides are contact fungicides and systemic fungicides. Each kind works differently to fight diseases.
Contact Fungicides
Also known as topical and protectant fungicides, contact fungicides are sprayed onto the surface of plant tissue. A contact fungicide acts as a barrier, inhibiting the germination of fungal spores inside the plant. For a contact fungicide to be effective, it must be sprayed before the plant is infected. Check with your county's Cooperative Extension Service office, a plant nursery or a plant disease clinic to learn more about the times of the year when fungal diseases are most prevalent in your area. Contact fungicides include chlorothalonil, copper and mancozeb.
Systemic Fungicides
Systemic fungicides penetrate plant tissue and move through the inside of the plant, where they affect existing infections. System fungicides are also called curative fungicides. In the case of a Phytophthora, or root rot, infection, a systemic fungicide migrates from the leaves down to the roots. Phosphorus acid is a type of systemic fungicide.
Locally systemic fungicides travel shorter distances than systemic fungicides, such as from the base of a flower to the flower's stigma. They generally enter a plant best through tender new growth, such as shoot tips and young fruits, because mature leaves and mature fruits can be difficult to penetrate. Locally systemic fungicides include propiconazole and azoxystrobin.
Application of Fungicides
If applied incorrectly, fungicides will not work and can harm plants, the environment and the person applying them. A home gardener can use a hose-end sprayer or handheld sprayer to apply a fungicide to a plant. Apply fungicide evenly to the tops and bottoms of the plant's leaf surfaces. Spraying the plant's lowest leaves is especially important because that is where most fungal diseases begin.
Tip
Fungicide label directions often instruct users to "spray until runoff," which means they should spray fungicide on leaves until droplets of the spray begin to move on the leaves. It does not mean users should spray until fungicide runs off the leaves and onto the ground.
A fungicide usually needs to be applied multiple times during the growing season, often at seven-, 10- or 14-day intervals. New plant growth continually needs protection, and heavy rain can wash off contact fungicides. Apply fungicide more often during rainy periods when plant growth is fast, and apply fungicide less often during dry periods when plant growth is slower. Organic fungicides, such as copper, sulfur, oils and bicarbonates, may need to be applied more frequently than non-organic fungicides; read their label directions.
Warning
Always follow fungicide label instructions exactly. Check that your plant and the fungus you wish to fight are both listed on the label. Some plants have a sensitivity or phytotoxicity to certain chemicals, and spraying them with the wrong fungicide can damage or kill those plants. High temperatures also can cause phytotoxicity.

When preparing and applying fungicide, wear protective clothing, including a long-sleeved shirt, long pants, socks, closed-toe shoes that are waterproof, a hat, waterproof gloves, goggles and a breathing mask.

Store fungicide in a secure location away from children and pets.