If you enjoy spending time outdoors, your garden and its surroundings can be as important as the interior of your home. When looking for new landscaping ideas, think about using grapes (Vitis spp.) as a focal point. Grapes grow as vines that become woody with age, forming graceful lines when supported by a structure. When bunches of grapes hang from the vines at harvest time, they add color. It's important to choose the best type of grape for your climate, but beyond this, there's no limit to how you can use grapevines to enhance your outdoor environment.
Grape Varieties
Grapes are divided into three basic groups, with different levels of cold tolerance. When adding grapes to your landscape, choose vines that are best suited to your climate to help ensure success:
European grapes (Vitis vinifera) are often used to make wine and only grow in U.S. Department of Agriculture plant hardiness zones 7 through 10 where winter temperatures usually stay above zero degrees Fahrenheit.
American grapes (Vitis labrusca) are generally more cold tolerant and many varieties can grow in USDA zones 4 through 9, where temperatures as low as minus 25 F.
Muscadine grapes (Vitis rotundifolia) are native southern plant, with some varieties hardy in USDA zone 7. Most grapes are adaptable to warm summers, growing in USDA zones 8, 9 or 10, depending on the type and cultivar.

Grapes as a Screen or Boundary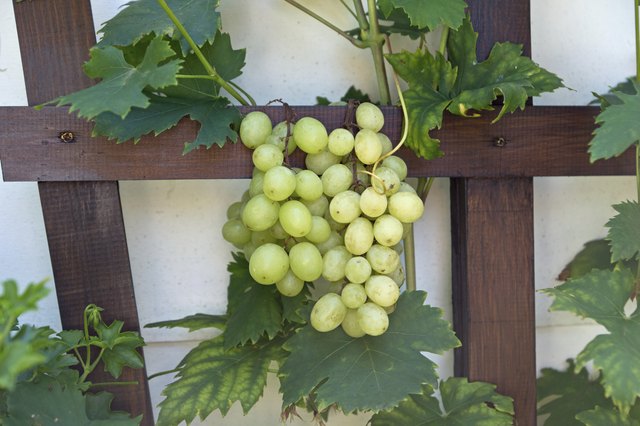 If you have a fence on your property or you're thinking of adding one, train grapevines along its rails or use grapevines as an attractive covering for a chain-link fence. A grape planting also adds summer-long interest with leaves that usually turn from green to bronze or red as fall approaches.
Grapevines trained on an open fence can also provide added privacy. To train the vines on a fence, prune each vine to one or two upright stems, allowing several horizontal branches -- called arms -- to grow, and attach these securely to the fence with strong ties
You can also train grapevines to soften the hard lines of a boundary wall by allowing the stems, leaves and bunches of grapes to cascade over the top and down either side of the wall. Tie the vine's upright stems to sturdy, vertical stakes driven at intervals into the ground near the wall to support the vines and help them reach the wall's top. Also set metal anchors into the wall at intervals on its top and sides, using these to secure the vines as they grow.
Tip
When training grapes to grow on an structure, remember they produce fruit on the current season's growth, so prune vines in winter or early spring to avoid interfering with fruit production.
Grapes for Overhead Interest
Grapevines are generally vigorous growers that can live for 30 years or more, becoming strong and woody as they age. The vines also become quite tall, especially if you allow them to grow without regular pruning. For these reasons, grapevines work well when allowed to grow vertically onto and eventually cover an overhead structure. If you have a sturdy, free-standing arbor, pergola or archway covering a path, plant grapevines at intervals near the structure's upright supports, then let them grow up and over the structure -- providing a living cover that also gives shade on hot days.
For best results, train each grapevine to two or three main stems, removing all side branches except those that form near the vines' tips. Tie the upright stems to the arbor, arch or pergola and, once each stem reaches the correct height, let the lateral branches grow freely to cover the structure's upper parts, attaching them securely as they grow.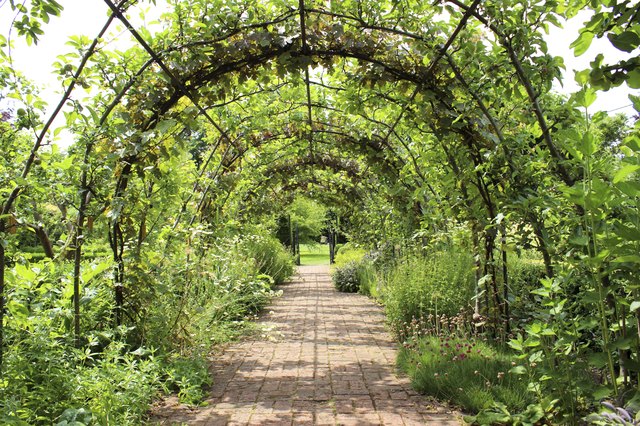 Grapes as Container Plants
Grapes also make good container plants that you can move to different locations for added interest. Because the vines can become tall, it's important to use a large, wide-bottomed container that's extra-stable, to prevent tipping as the plants grow. For a young vine, start with a 5 gallon pot, transplanting it into a larger container every season or two as it gets bigger. Add a support such as a small trellis or obelisk -- a cone-shaped support -- to the pot, pushing it deeply into the soil and attaching the vine with strong ties as it grows. A container-grown grapevine can yield fruit, but it won't produce as many grapes as one that's in the soil, because the size of the pot restricts its root growth and its ability to make fruit.
Tip
If a potted vine becomes top-heavy, use bricks or cinder blocks on the ground around the pot to prevent tipping. Adding several inches of sand to the bottom of the pot at planting also helps keep the pot stable as the vine grows.