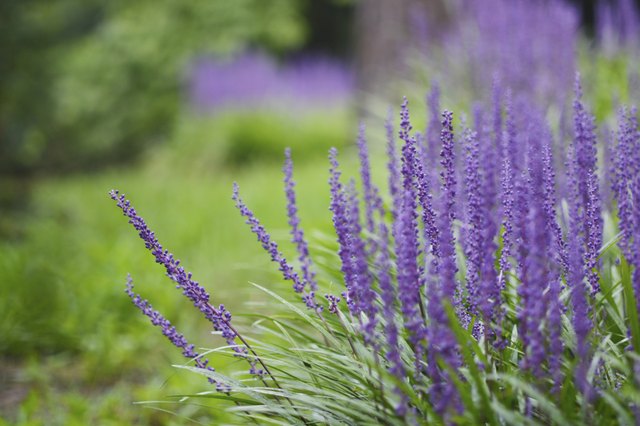 Ground cover plays many roles in landscaping. It slows erosion, softens the terrain and fills large areas of land that are otherwise difficult to landscape. Choosing ground covers is largely a matter of personal taste and preference, but there are several practical aspects to consider.
Growing Conditions
Local conditions play a key role when choosing ground covers. Attempting to grow a ground cover in the wrong place or climate limits the chances of success and results in wasted time, effort and money.

Keep your location's U.S. Department of Agriculture plant hardiness zone in mind when choosing ground-cover plants, and only choose those that grow well in your area.

Choose rugged species that require little watering if drought is common in your area.

Take stock of the planting location. Make a list of ground-cover plants that thrive in the available conditions, and cross-reference those plants with plants that have characteristics suitable for your project.

Desired Use
Ground-cover plants are not one-size-fits-all. Those that work well for erosion control do not necessarily make good fill-in plants for between paving stones. Consider the plants' growth habits and texture as well as their mature sizes and the amount of care they require.

Erosion Control
The best ground covers for erosion control spread quickly, need little maintenance and can cover a large, steep area in a relatively short period of time. One example is 'Massachusetts' bearberry (Arctostaphylos uva-ursi 'Massachusetts'), which grows as a perennial in USDA zones 2 through 6. It a highly ornamental cultivar valued for its leathery leaves and dainty, urn-shaped flowers. Showy, rugged, yellow archangel (Lamiastrum galeobdolon, USDA zones 5 through 8), is another example. It brightens steep hillsides and marginal areas of a garden with its dainty, yellow flowers.

Foot Paths
Ground-cover plants used between paving stones or other high-traffic areas need to be tough and resilient. Dense, low-growing herbs such as woolly thyme (Thymus pseudolanuginosus) stand up to traffic and emit an herb scent when stepped on, making them desirable choices in USDA zones 5 through 9. Blue star creeper (Pratia pedunculata, USDA zones 5 through 7), with its sturdy foliage and sky-blue flowers, is another common choice for high-traffic areas.

Space Fillers
Out-of-the-way and difficult areas of the yard benefit from a fast-growing, impactful ground cover to keep the soil in place and to provide a low-maintenance source of visual interest. Large-flowered species such as blue lily-turf (Liriope muscari, USDA zones 5 through 10) stand out when planted across large areas while variegated Japanese spurge (Pachysandra terminalis 'Variegata', USDA zones 5 through 9) brightens shady areas with its splotchy, succulent leaves. Variegated Japanese spurge is not aggressive like other spurges, but it can still cover a wide area and should be planted with root barriers around its base to control its spread.

Warning
Do not confuse blue lily-turf with creeping lily-turf (Liriope spicata, USDA zones 6 through 10), which spreads aggressively and can become invasive in its range.

Ground-Cover Spacing
Spacing of ground-cover plant specimens depends on several factors, including the plant's growth rate and the size of the area to be covered. Ideally, the ground cover will spread over the intended area within the first year to keep weeds at bay. So spacing is key.

One hundred ground-cover plants will cover areas of various sizes, depending on the plants' spacing. For example, 100 plants that are planted 6 inches apart will cover 25 square feet while the same number of plants placed 36 inches apart will cover 900 square feet. Standard spacing is 1 to 2 feet, but it can be adapted as the plant budget allows. Choose plants that grow larger, grow faster and have a more expansive spread than other plants when you want to cover a large area, and use smaller plants for a smaller area.

Bed Preparation and Planting
Preparing the planting site will help the ground covers establish more quickly and encourage them to have lush, dense growth.

Things You'll Need
Hoe
Shovel
Black, plastic sheeting (optional)

Tiller (optional)
Tape measure

Organic compost
Granular, slow-release, 5-10-5 fertilizer
Mulch
Garden hose
Step 1
Weed the planting site if it is small, removing all perennial and annual weeds. Cover a large planting site's soil with black, plastic sheeting for one to three months to kill the weeds.

Step 2
Till the soil to a depth of 8 to 10 inches, using a shovel or tiller. Spread a 2-inch layer of organic compost over the planting site, and work it into the soil to a depth of 8 to 10 inches to improve the soil structure.

Step 3
Spread granular, slow-release 5-10-5 fertilizer onto the planting site at a rate of 3 pounds per 100 square feet. Work it into the top 6 to 8 inches of soil.

Step 4
Position ground-cover plants in a zigzag or staggered formation. Plants in that arrangement grow to fill the space faster and give the space a more natural look. Avoid planting in straight rows, which can leave bare spots.

Step 5
Spread a 2-inch layer of mulch between the plants to keep weeds at bay. Leave a 2-inch gap between the mulch and each plant to allow excess moisture to escape.

Step 6
Water the site weekly to a 6-inch soil depth while the plants become established. Do not let the soil dry out completely for the first few weeks after planting, but allow the surface to dry out slightly between waterings to prevent root problems.

Unsuitable Plants
Fast growth is a desirable trait in ground-cover plants, although very aggressive plants should be avoided because they can become invasive in their USDA zones. For example, wintercreeper euonymus (Euonymus fortunei, USDA zones 5 through 8) spreads unchecked and can invade native ecosystems. Common periwinkle (Vinca minor, USDA zones 4 through 8) is another ground cover that should be avoided because it often escapes cultivation.

Tip
If you plant an aggressive species, install root barriers around it to limit its spread.