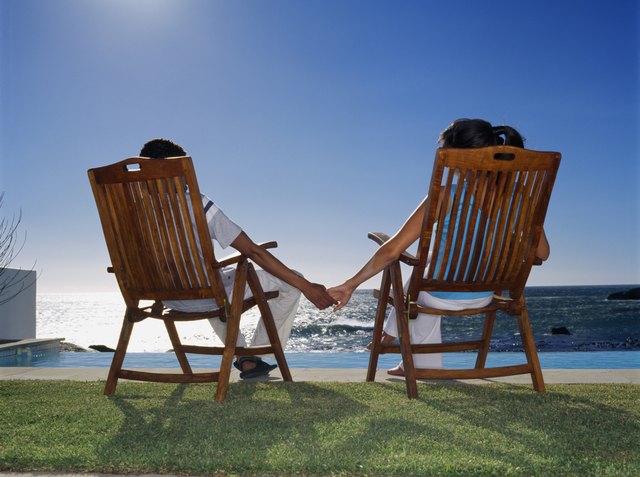 Nobody said having a gorgeous lawn was simple, and the challenge is even greater if you live in a hot climate and hope for a low-maintenance yard. Warm-season grasses survive and even thrive in scorching summer temperatures, but they exact a price: Though offering dense lawn cover, many of them brown in late fall and stay brown until spring arrives.
If you live where summer temperatures regularly mount into the three-digit range, then your choices of warm-season grasses are limited. Consider bermudagrass (Cynodon spp.), St. Augustinegrass (Stenotaphrum secundatum), bahiagrass (Paspalum notatum), centipedegrass (Eremochloa ophiuroides) and zoysiagrass (Zoysia spp.).
It's not a matter of eenie-meenie-miney-mo when it comes to choosing. Instead, consider factors such as the shade in your yard, how you use the area, how much you use it and your preferences in lawn texture and lawn height.
Bermudagrass
Tough and time-tested, bermudagrass is widely cultivated in hot climates. This perennial grass accepts most types of soil and does not raise a grassy eyebrow at extreme heat, all-day direct sun exposure, or dry or salty environments where it is hardy, U.S. Department of Agriculture plant hardiness zones 7 through 10. It anchors its fine foliage with both stolons -- above-ground runners -- and rhizomes, allowing the grass to fill bare areas quickly. It can be mowed low.
Bermudagrass has its problems, however. It seems to turn before your eyes into straw if frost hits its area and then requires overseeding. It doesn't do very well in shade, can be invasive in sunny areas, forms thatch and gets bad grades on the "low-maintenance" test. Look for bermudagrass hybrids that do better in frosts and offer more disease resistance.
St. Augustinegrass
If you live in a toasty area by the sea, then consider St. Augustinegrass, one of the best species as far as salt-tolerance goes and also reasonably drought-tolerant. It has a blue tint, and its broad blades or leaves create a dense lawn. It relies on stolons to spread rapidly, and it can be aggressive and invasive if not controlled. St. Augustinegrass is native to the Caribbean and works well in semi-tropical regions. It is hardy in USDA zones 8 through 10.
Thatch is a major downside of St. Augustinegrass. Also, it does poorly in cold temperatures and doesn't tolerate foot traffic very well. It must be cut high, between 3 and 4 inches, and requires weekly watering to look its best.
Bahiagrass
Bahiagrass may be the low-maintenance, warm-season grass you've been looking for if you live in USDA zones 7 through 10, where it is hardy. For decades, the use of bahiagrass was limited to infertile pastureland, but this apple-green grass is being considered a suitable alternative to the higher-maintenance warm-season grasses.
Bahiagrass has a very deep root system and is able to thrive in poor soil, requiring little irrigation or fertilizer. It can be seeded in big spaces. Thatch is not a big problem with this grass, and it resists diseases and pests.
The stalks of bahiagrass, however, grow quickly and within two weeks begin to produce tall, tough seed heads. Keeping a bahiagrass lawn looking nice requires mowing it weekly. The grass doesn't do well in shade or alkaline soil, doesn't thrive in heavy foot traffic and is susceptible to mole crickets.
Centipedegrass and Zoysiagrass
Centipedegrass and zoysiagrass are popular alternatives in some areas, but neither takes the high temperatures of some other warm-season grasses. Centipedegrass is hardy in only USDA zones 7 through 8 while zoysiagrass s hardy in USDA zones 6 through 9. Both are thick, dense and grow slowly enough that you won't have to mow them often.
Centipedegrass is bright green and has a medium texture while zoysiagrass is light green with a fine to medium texture. Centipedegrass is considered lower maintenance than zoysiagrass, which is susceptible to thatch and has fertility requirements.