Buying new herbs from a garden center or nursery can quickly add up. Save money by propagating herbs through cuttings. Taking a cutting is one of four different ways herbs are typically propagated, the other three methods being by seed, by dividing the plant and by layering the plant. To get new herb plants from cuttings, all you need is a mature, cuttings-friendly herb plant and some basic supplies.
Types of Herbs That Grow From Cuttings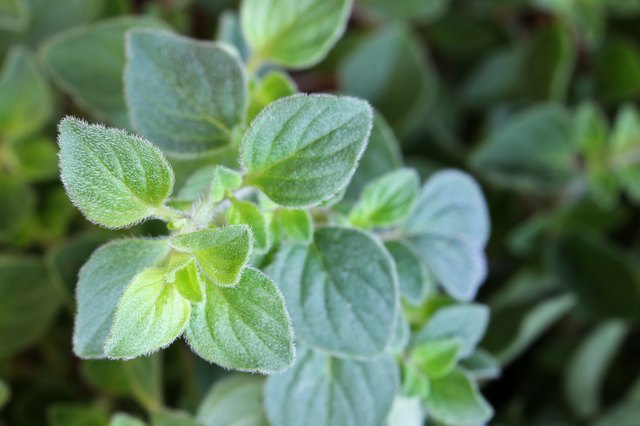 For your first try, pick herbs that propagate easily from cuttings:
Tip
"Full sun" means the herb needs a minimum of six hours of direct sun every day. In this case, more is better. Meanwhile, "part sun" equates to four to six hours of sun daily.
Best Practices for Rooting an Herb Cutting
Visit your herb garden in the early morning, before the sun's heat begins to dry and stress the plants, and take a cutting to start a new herb plant.
Things You'll Need
Razor blade
Gloves

Seedling pot
Sand
Perlite
Spray bottle
Rooting hormone

Step 1
Cut a 3- to 4-inch-long cutting from the growing tip of a mature, established herb plant that appears healthy. Make the cut below a growing node, which is the bump on the herb's stem or branch from which leaves sprout. Use a new razor blade and wear gloves to protect your hands.
Step 2
Remove any leaves on the bottom of the cutting so the bottom 1 inch of stem has no leaves.
Step 3
Fill a seedling pot with a mix of equal parts perlite and sand.
Step 4
Push the cut end of the cutting into the sand and perlite mixture, burying the tip approximately 3/4 to 1 inch deep.
Step 5
Fill a spray bottle with water and mist the sand and perlite potting soil twice a day or as necessary to keep the medium evenly moist. The cutting will take root over the course of two to three weeks.
Tip
While not required, dipping the cut tip of the stem into rooting hormone powder may encourage the cutting to grow roots faster. Buy rooting hormone powder from a garden store or nursery.
Warning
Wear gloves whenever you're handling sharp objects. Always cut away from your body when using a razor blade.
Transplanting the Cutting
Once the herb cutting has taken root and begun to produce new leaves, it's ready for transplanting into your herb garden. While every garden is different, several general tips can ensure transplanting success:
Make sure the planting site gets the proper amount of sun for the herb you're growing. In most cases, that's six to eight hours of sun every day.

Prepare the planting site by mixing a 2- to 3-inch layer of compost into the top 12 inches of soil. This enhances drainage, which is crucial for herb health.

Spread a 2-inch layer of mulch around the newly transplanted herbs. This reduces watering needs and blocks out weeds. Keep the mulch 4 inches away from the plant's stem.

Water the herbs when the top 1 to 2 inches of soil feel dry to the touch.

Tip
You can also grow your newly propagated herb cuttings in an herb container garden:

Use a plastic or clay pot that has drainage holes in the bottom -- most herbs cannot survive chronically wet soil.
Use a sterile potting mix, not soil you've dug up from the garden. For herb-friendly, well-draining soil, look for a potting mix that contains organic matter mixed with sand, perlite or vermiculite.

Allow for approximately 1 gallon of potting soil per herb plant. So, if you want to grow five herbs in your container, the container should be able to hold approximately 5 gallons of potting mix.
Try hanging the container or pot, especially if you're raising aromatic herbs. This brings the herbs closer to eye level so you can better appreciate the beauty and fragrance of the plants.