Incorporate several forms of hardscaping into your yard to both beautify the space and add function. A stepping-stone or brick path helps keep the yard from getting muddy, and a rock garden conserves water while adding beauty to the space.
Add a Patio
A patio provides plenty of space for an outdoor table and chair set, room for a grill or even a space to lounge and read your favorite novel. Plan a patio made of salvaged bricks, tumbled stone blocks or your favorite color of cut stone for an exquisite addition to your yard space. Ensure your patio includes enough space for all the items and activities you have planned for it -- it's easier to make the patio slightly larger than you think you'll need now, in many cases, than to create a matching extension later.
Build a Retaining Wall
If part of your yard sits on a slope, a retaining wall helps prevent the soil from eroding. Decorative bricks or blocks can also help mask an unsightly existing concrete-block retaining structure. Choose stone or brick that complements other hardscaping elements in your yard, or that pairs well with the style or color of materials on your patio, driveway or your home's exterior.
Create the Perfect Pathway
Build a path between or around flowerbeds for an attractive addition that allows you to maintain the plants without getting your knees dirty even during muddy conditions. A stepping-stone path from the patio to a pool or play area helps prevent part of the lawn from becoming a barren dirt trail. A stone slab path along the side of your home adds an air of intrigue to the space while making it more friendly to wheeled items such as trash cans and garden carts.
Add a Rock Garden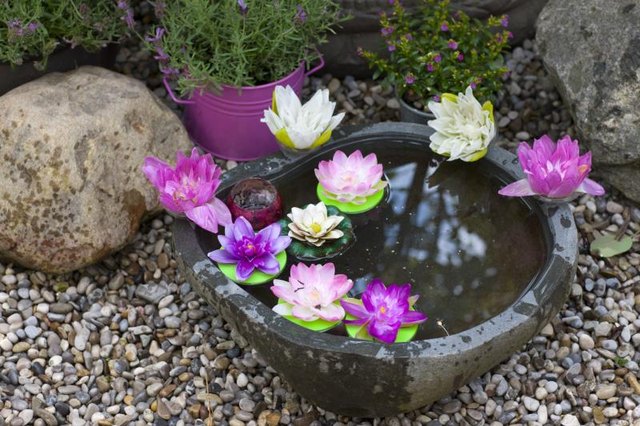 A rock garden -- a garden bed full of colorful stones -- helps conserve water during dry conditions, and it helps beautify the space when a green lawn isn't a viable option. Add beds of crushed white or black stone, for instance, around the edges of an existing flower bed, or fill various levels of a tiered retaining wall with smoothed blue glass or black river rocks for a stunning addition. Add large rocks near a water feature to add a bit of texture and layering to a mostly flat area.