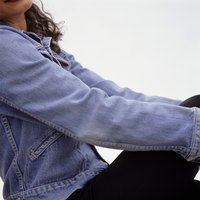 Distressed denim is the ultimate lived-in look that lets your devil-may-care personality shine through. If that brand new denim jacket looks a little too pristine and perfect, it's time to give it the rough treatment. While you can purchase a jacket already torn to shreds, you can just as easily do it at home. Place the rips at natural stress areas, like the elbows, and you'll also be making the jacket more comfortable to wear.
Things You'll Need
Chalk
Cloth
Fabric scissors with a sharp point
Fine-grit sandpaper
Laundry detergent
Put the denim jacket on and stand in front of a full-length mirror. Bend your arms slightly and decide where at the elbows you want the rips to be. For maximum comfort, it's a good idea to place them at the very tip of your elbow.
Draw a horizontal line across the back of each elbow of the jacket to indicate where you will rip them. If you prefer multiple rips, draw several lines. If you make a mistake, wipe off the chalk line with a damp cloth and redraw the line.
Take the jacket off and lay it on a flat surface with the back facing upward.
Unbutton any button on the cuffs of the jacket, and roll up the sleeves until you arrive 1 to 2 inches below the chalk lines. This will allow you to work without the lower portion of sleeve getting in the way.
Insert your hand into one sleeve, just far enough to hold the upper layer of denim up off of the lower layer. Keep your hand out of the way of where you will be ripping. Insert one of the tips of an open pair of scissors into the end of the chalk line, making a small hole. Use great care.
Push one blade of the scissors carefully into the hole, and cut along the chalk line until you reach the other end of the line. Repeat the process to cut along all of the chalk lines on both elbows.
Rub a piece of fine-grit sandpaper vertically over each newly cut elbow hole for 15 to 20 seconds. The edges of the holes will begin to turn white and start to unravel slightly.
Rub the holes horizontally for 15 to 20 seconds with a fresh area of the sandpaper.
Wash the denim jacket with one cap full of laundry detergent in a washing machine set to warm.
Remove the jacket from the washing machine and ensure the holes are frayed to your liking. If additional fraying is desired, put them into the washer again and run another wash cycle.
Dry the jacket in the dryer on a low heat until the denim is completely dry. Remove the jacket and hang it up or wear it.