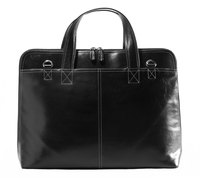 The look and feel of soft, supple leather lend an air of luxury to clothing, accessories, handbags, shoes and high-end furniture. When leather is not properly cared for, though, that butter-smooth appearance soon loses its luster. Over time, heat and dry air cause leather to lose moisture and dry out, which stiffens it to a texture that resembles beef jerky. Restoring your leather to a glorious softness requires adding moisture back into the fibers.
Things You'll Need
Bottle of leather cleaner
Microfiber cloths
Sponge
Leather conditioner
Dab a soft microfiber cloth into a bit of leather cleaner and wipe it onto an inconspicuous area of the leather. Let the cleaner sit for 10 to 15 minutes, and then wipe it off. Examine the leather to ensure no discoloration occurred before you proceed.
Apply 1 to 2 teaspoons of leather cleaner to a damp microfiber cloth, and wipe the cleaner onto the entire surface of the leather. Apply additional cleaner to the cloth as needed, depending how much leather you need to clean. The cleaner will not foam up.
Rub the cloth over the leather using firm pressure and circular motions to remove any dirt and stains.
Rinse the cloth in cool water and wring it out thoroughly. Wipe the leather with the cloth to remove all the cleaner.
Wait 24 hours to allow the leather to dry fully before proceeding.
Apply 1 to 2 teaspoons of a pH neutral leather conditioner to a clean, dry sponge and gently rub it onto the leather in small circular motions. Apply additional conditioner to the sponge as needed until you cover all the leather.
Continue rubbing the sponge in circular motions over the leather to massage the conditioner in. Stop when all the liquid is absorbed and the leather no longer looks wet or feels greasy.