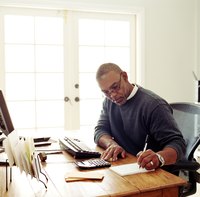 Writing a business plan requires a lot of time and effort. For this reason, many businesses are happy to hire someone to do the work of crafting their business plans, making it an excellent opportunity for freelance writers. There is no rule as to how much you should charge. When setting your fees, consider how long the project is likely to take, how much you need to earn to live, as well as the amount of experience and knowledge you're bringing to the project.
Choose a pricing method. Charging an hourly rate, as opposed to charging by the word, will account for any time you need to spend researching the business and consulting with the business owners. You can either track your time while working on the plan and charge your client for the exact amount of time spent, or charge a flat fee based on how many hours you expect the project will take. Another method of project pricing is value-based pricing, an emerging trend in which you would base your fee on a percentage of the overall value your clients will derive from your service. Consider the time that your work will save your client, as well as how much capital and financing they stand to gain from having a well-crafted plan, and charge a percentage -- usually 10 to 20 percent -- of that amount.
Decide how much to charge. Either choose an hourly rate that will make you feel well-compensated for the project, or, if you choose value-based pricing, determine the percentage of the value you'll provide that you feel is fair. When deciding on an hourly rate, take into consideration how much you need to live on, as well as how much you need to successfully run your business. A report put together by Writers Digest based on data from 2009 and 2010 shows that business plan writers generally charge anywhere from $30 to $150 per hour, with the average being $82. Generally, the more experience you have with business plans, the more you'll be able to charge.
Estimate how many hours you'll spend on the project. This is helpful regardless of which pricing method you choose. If you charge an hourly rate, your client will most likely want an estimate of the overall cost of the project. Having a realistic estimate of the time it takes to craft a business plan will also help you determine a flat fee, whether you base it on an hourly rate or on the value-based pricing model. For the latter, this will tell you how much of your client's time will be saved by not having to write the plan herself.