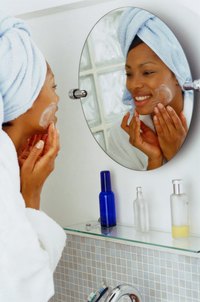 If you've decided to skip the pricey salon facial and opted for a do-it-yourself treatment, a peel-off face mask might be part of your at-home spa day. And if you've had any experience with peel-off masks before, you likely know that taking off the mask can be a pain if it's not done correctly. You could spend the whole day peeling away pieces of the mask from your skin. After the mask has dried and it's time to reveal your smooth, soft skin underneath, take the mask off the right way to get it done quickly and without leaving patches of the mask on your skin.
Things You'll Need
Leave the mask on your face for about 20 minutes, or the time recommended by the manufacturer. Trying to remove the mask before it's dry can make for a messy removal.
Start at the forehead and work your way down towards your nose. Use your fingernail to gently scrape a piece of the mask from the skin so you have something to grab on to.
Pull the mask from your face in a downward motion. Work slowly and peel the mask down past your nose right above your upper lip.
Peel the mask from the sides of your face once you've peeled it down to the nose. Work on one side of the face first, then the other. Pull the mask toward the center of the face to where it meets with the part of the mask you've removed from your nose.
Pull the remaining mask off your face in a slow, downward motion past your chin. Go over your skin and remove any small pieces of the mask from your face.
Rinse your face with a washcloth and cool water to remove any residue. Pat your face dry with a soft towel. Apply toner to your face to close the pores and follow up with moisturizer.