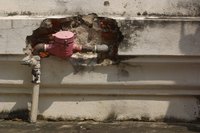 You can file a surety bond claim if the contractor has broken the contract. There are many contractual situations in which you can file this claim. However, the most common are from homeowners; individuals who have been negatively affected by a contractor's failure to honor the terms of the contract; employees seeking payment from the contractor; and funds that have suffered from the contractor's failure to pay employees. Some companies settle a claim immediately while others require a judgement first. It's best to contact your contractor's surety company for information on their policies.
Research the statute of limitations on your claim. Each type of claim has varying limits on the amount of time you have to file for a reimbursement, but usually it's one year. If you are unsure, contact an attorney for more information. It's also important to act quickly to make sure you can receive reimbursement before the bond is exhausted. If there are other claims against the contractor, the funds from the bond will be disbursed in the order that the company receives them.
Find out the name of the bonding company behind the contractor and the bond. You might find this information on the contract or from the office responsible for licensing contractors in your city.
Submit a written claim to the surety company. Include any supporting documents the company requests, such as a copy of the contract and the bond number. The company might issue a payment after it verifies your claim. If it refuses to do so, you can take your case to court.
File a summons and complaint at a district court if the surety company refuses to pay the claim. Name the contractor and the bonding company as defendants; include the bond number and list when the breach of contract occurred. You can file suit at a small-claims court if the value of your claim is under $10,000. If the court makes a judgment in your favor, the surety company is obligated to pay.