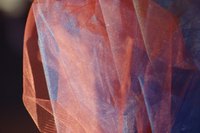 Sheer organza is an extremely fine material that is frequently used in special-occasion clothing such as wedding gowns, bridal veils and formal dresses. Although the fabric is often made from pure silk, manufacturers commonly include sturdier synthetics in the weave to prevent the fiber splitting. Although ironing organza can be a risky business, it can be accomplished if you use extreme caution to avoid scorching or melting the fabric.
Things You'll Need
Read the care label if one came with the organza to determine the fabric content.
Adjust the temperature of the iron to the low setting for pure silk, silk blends, rayon or nylon; polyester can take a medium setting.
Set up the ironing board and drape the organza over it -- with the back side facing up -- then smooth it with your hand so the material is flat and taut.
Lightly dampen a pressing cloth with warm water and lay it over a wrinkled portion of the material when ironing polyester or nylon organza. Use a dry pressing cloth for silk organza, silk-synthetic blends or rayon; silk is susceptible to water marks.
Iron over the pressing cloth with the warm iron to remove the wrinkles. Repeat the process over other wrinkled areas, re-dampening the pressing cloth as needed if working with synthetic.