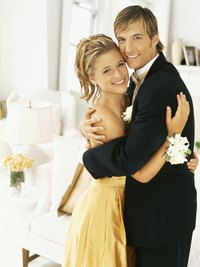 Before you burst into tears at the sight of a nail polish stain on your gorgeous prom dress, you may successfully be able to get it off the dress, depending on the type of fabric the dress is made from. Let the nail polish dry before attempting to remove it, though, so you don't end up smearing it.
Things You'll Need
White rags
Acetone or acetone nail-polish remover
Laundry stain removal product
Mild laundry detergent
2 large bath towels
Lay a few clean white rags down on a flat surface. Place the nail polish-stained part of the prom dress face down on the stack of rags.
Moisten a clean white rag with acetone or acetone nail polish remover.
Reach into the dress, and blot the nail polish stain with the rag from the inside out to carry the stain to the rag under the dress.
Add more acetone and switch to a clean part of the rag when one part becomes stained with nail polish. Switch to clean rags underneath the fabric as the stack becomes filled with polish.
Rinse the affected area of the prom dress with cold water. Blot again with the acetone, and rinse again under cold water. Continue this process until no more nail polish is coming off the prom dress.
Spray a laundry stain removal product on the affected area of the prom dress. Let it sit for 10 minutes.
Wash the prom dress as instructed on the care label. If the dress is "Dry Clean Only," take it to a professional for cleaning. If you can hand wash the dress, put it in a tub of cold water with mild laundry detergent and let it soak for five minutes. Use your fingers to gently scrub the area where the nail polish stain resided. Rinse the dress well with cold water until all of the soap is removed.
Lay the dress out on clean towel, and then roll up the towel and dress to squeeze out excess water. Lay the dress flat on another clean towel to air-dry completely.