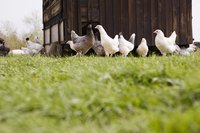 Chickens are vulnerable to a number of predators, including foxes, raccoon, coyotes and hawks. Building even a simple coop will keep them safe from these threats. The safety of a coop can also lower their stress levels and increase egg production.
Things You'll Need
4 poles
Post maul hammer
Shovel or trowel
At least 8 feet of chicken wire per bird
Roll of baling wire
Wire clippers
Nesting box with door
Tape measure
Staple gun
Wooden board slightly larger than coop floor dimensions
Measure and mark a square or rectangular footprint for your chicken coop with a tape measure. You should have 4 square feet per chicken. Make sure the nesting box fits comfortably inside.
Dig a trench 6 to 12 inches deep and 3 inches wide along the outline of your coop's footprint with a trowel or shovel. Burying the chicken wire will help keep your brood safe from digging predators.
Drive a pole into each corner of the outline with a post maul hammer. Continue until each pole can no longer be easily wiggled or lifted. If you have trouble holding the pole steady while hammering, ask a friend to steady it.
Wrap the edge of the chicken wire around the first pole and secure it with baling wire in at least five places along the length of the pole. Lace the baling wire through the chicken wire and around the pole, then twist the ends together several times. Make sure the chicken wire is sunk into the trench.
Follow the trench line with the chicken wire, securing it in at least five places at each pole. Fill in the trench around the chicken wire with dirt as you go. Make sure the nesting box is inside the coop with the front door facing inward and the back door pressed up against the chicken wire, before fully sealing off the area with chicken wire. The front door should be an open hole, for the chickens, while the back door should have a hinge and latch for you. If you notice any places along the fence that feel loose, fasten them with more baling wire.
Cut away the excess chicken wire with wire clippers once the coop area has been completely sealed. Cut away the chicken wire from in front of the nesting box door, so it can be easily opened. This will allow you to collect eggs without going through the main coop.
Staple the chicken wire to the back of the nesting box around the door and at the corners of the box using a staple gun.
Place the board over the top of the coop so that it rests on top of the poles. Put something heavy on top to keep the chickens in and predators out, while still giving you easy access to the coop.