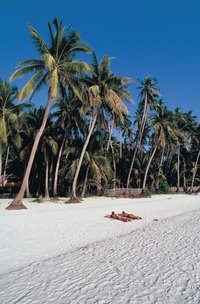 The Philippines is a great destination for travelers looking to score on natural beauty at bargain prices. Tropical beachfront resorts in Boracay, Palaui Island and Samal offer white sand beaches that are calling your name. With smart packing and planning, getting to that island dream can be smooth sailing.
Things You'll Need
Summer clothing
Rain jacket
Long pants
Comfortable walking shoes and sandals
Wet-naps
Packs of tissue
Hand sanitizer
Upset-stomach medicine
Motion sickness pills
Pain reliever
Adhesive bandages
Alcohol wipes
Insect repellent
Bug bite relief
Any feminine hygiene products or medicines
Dry cover for your backpack or suitcase
Dry bag for electronics
Photocopies of your passport
Medical and travel insurance papers
Pack lightweight clothing. Since it's a tropical climate, pack shorts, sandals, dresses and the like. It's good to carry some lightweight pants or a long skirt and a lightweight shirt that will cover your shoulders rather than a tank top. If you're visiting the countryside, locals may be more conservative, so it's a good idea to have clothing options to cover up. Pack a light, breathable rain jacket if you're traveling during the rainy season of May to October. Comfortable walking shoes are good to have, along with an extra pair of sandals. There are malls and night markets in the Philippines, so you may want to pack light, and come home with your bags filled.
Pack items to keep you clean on the go. It's probable that you will find yourself on a crowded boat, bus or train for hours on end. Whether you're using public restrooms at a rest stop, on a boat or a train, there is a good possibility that there won't be toilet paper or soap to wash your hands. In your day bag, carry wet naps, small packs of tissue and hand sanitizer.
Create a medical pack. Medicines will be available in the Philippines, but it's good to carry the basic medicines you know and trust. Medicine to help with diarrhea is a must-have. Try to find chewable tablets for easy travel. Motion sickness pills will aid in rough boat and bus rides. Regular pain relievers are great to have on hand as well. Pack band-aids and alcohol wipes, insect repellent and bug bite relief spray. For that hot tropical sun, bring a high SPF sunscreen. For women, bring any feminine hygiene products or medicines you may need.
Keep your things safe from the tropical climate. If your backpack or suitcase comes with a rain cover, bring it. Even if you're not traveling during the wet season, the Philippines can have unpredictable weather. Also carry a dry bag to protect any electronics you're bringing.
Keep your paperwork in order. Make a couple of copies of your passport just in case, and pack them in different bags/pockets. Carry copies of travel insurance, medical insurance paperwork as well as any letters from doctors pertaining to medication you're carrying.