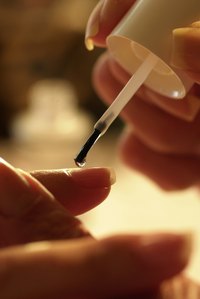 Whether you're having a girls' night in, a little me-time therapy or you just don't want to drag yourself to the nail salon, sometimes the best nail care is DIY nail care. The difference between a quick swipe of polish at home and a professional salon visit is all in the prep. If you start with a smooth, clean bare nail, your polish will go on much smoother. Follow this technique for perfect polish application, and you'll flash those perfectly done digits with pride.
Things You'll Need
Nail file
Buffer
Cuticle oil
Orange stick
Thin washcloth (optional)
Manicure scissors
Cotton pads
Acetone polish remover or white vinegar
Base coat polish
Nail polish
Top coat polish
Pointed cotton swab
File your nails to remove any rough edges. Following the natural shape of your nails, run a medium-grit glass or cardboard file along the edge of your nail in upward strokes. Always move the file toward the center of your nail. Don't use an up-and-down sawing motion, which can cause breakage.
Use a buffer to smooth the surface of your nail. Use upward strokes and rub lightly three to 10 times, or until your nail is smooth to the touch. You shouldn't feel any warmth from friction.
Dab a drop of cuticle oil at the base of each nail and rub it in. Then use a flat-tipped orange stick to gently push down excess cuticle growth. If you want to be extra gentle, wrap a thin washcloth around the orange stick. In a pinch, a thick body lotion can stand in for cuticle oil.
Snip any hangnails with a pair of thin manicure scissors. Don't pull or pick at your hangnails, as this can cause pain and even infection if the skin is broken.
Rub each nail with a cotton pad soaked in acetone polish remover. This insiders' trick cleans and temporarily dries the surface of the nail, which helps the polish adhere better. White vinegar will also do the trick.
Rest your hand on a steady surface. This will give you more control as you apply your polish.
Apply a base coat to protect your nails and make your polish go on more smoothly. Start at the center of your nail and drag the polish brush in a straight line from the base to the tip. Paint another strip of polish to the right and the left of your center stroke. Repeat with all nails, and let dry completely.
Smooth on two thin coats of your color polish, using the same center-right-left technique you used with your base coat. Two thin coats are more chip-resistant than one thick coat. Let the first coat dry completely before adding the second coat.
Drag your polish brush lightly over the tip of each nail. This helps keep the polish from peeling and chipping at the tip, which is the first place that your manicure shows wear and tear. Allow to dry.
Swipe on a thin layer of top coat. If you're pinching your pennies, choose a polish that doubles as a base and top coat. Air dry completely.