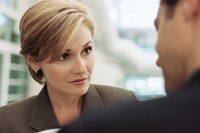 One of the more sensitive duties a human resources manager or business owner takes on is that of employee complaints against bosses. The professional in charge of handling these issues must be discreet, discerning and consistent in her treatment of all involved. Once a complaint is filed, the HR person must schedule and plan for a meeting regarding the matter. It is prudent at this time to investigate the problem as thoroughly as possible and review company protocols for this type of issue.
Gather information about the complaint. Get accounts from the person lodging the complaint, witnesses if there are any and the boss who is the subject of the grievance. Write down everything you learn.
Review company policies that might relate to the situation. For example, harassment policies often apply when an employee cites a supervisor as causing a problem for her. You will also want to consider the discipline process outlined in your company's manual in case you need to use the procedures in relation to the complaint.
Refresh yourself in regard to your conflict-resolution training. As a professional, you should be well-versed in handling potentially volatile situations. Assess what information and experience you have that could be beneficial in the current situation.
Consider past histories of each person involved in the complaint. There could be patterns of behavior that are being repeated. For example, a boss has been found to abuse employees verbally in the past could be exhibiting the same behavior in a new case. Remember, too, that past actions do not always indicate guilt now, so this information is just one piece of the puzzle.
Check whether similar cases have occurred before and how they were handled. It is often helpful to study past incidents and how they were managed when you are faced with a difficult case. Learn from both what went right and what went wrong in those incidents to help you with the current complaint.
Prepare a list of questions before meeting with the parties involved in the grievance. Be specific in asking for information regarding the matter. For example, if a worker alleges a boss treats her unfairly, query her as to what specific actions the boss took that were unjust.