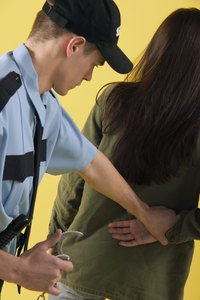 Inventory theft, or "shrinkage" accounted for $35.28 billion dollars in losses to the retail industry in 2011, according to MarketWatch. Of that total, more than 44 percent can be traced to employee theft, with another 25.8 percent going to shoplifters. A separate study by Ernst and Young reports that customers account for most of the thefts, but employees are responsible for a higher dollar amount because they tend to steal higher-priced items. A company can take several measures or combine them to reduce employee and customer theft.
Things You'll Need
Inventory Crew
A plan to deter shrinkage
Money
Door Locks
Extra or redeployed employees
Store floor plan
Convex mirrors
Cameras, working or not
Transparent plastic bags
Electronic tags
Door alarms
Employee training
Diagnostics and Planning
Take an inventory of your stock. Designate some trusted employees or department heads to count your merchandise or hire an outside firm to do this. An outside firm may be better.
Check your sales figures to make sure the number of sales matches any items sold. Having an electronic checkstand system makes it easier because it gives you a rundown of the number of specific items sold.
Create a plan to deter shrinkage. Consider what you can afford to spend and the extent of the problem.
Employee Theft
Implement a zero-tolerance policy and prepare to suspend or terminate any employees caught lifting merchandise. Consider offering incentives like bonuses to employees if shrinkage drops to an acceptable level.
Tell your employees about any policies you come up with, emphasizing your zero-tolerance stance and any incentives. Educate your workers on possible red flags to watch.
Have employees enter their job site through only one door, and check in any purses or backpacks. Lock these purses and backpacks up securely while they are at work. If the employee needs personal items at work, issue see-through plastic bags.
Man the loading docks, preferably with a supervisor or trusted employee when deliveries come in. Lock the door when it is not being used.
Customer Theft
Assign an employee as a greeter to check all customers without being obvious. Demand all backpacks or bags be checked in. If that is not possible, rearrange the store so all customer entrances or exits so the customer has to pass a checkstand first.
Mount convex mirrors in strategic locations so the entire sales floor can be seen from the checkstands or other employees on the sales floor. Assign an employee to offer help on the sales floor and have her watch for suspicious activity.
Install cameras throughout the store. Forget about covering them up. You want customers to see them. Even if the cameras don't work, they'll serve as a visual deterrent. Consider installing electronic tags on more expensive items and put in exit alarms. Teach your employees what to do when that alarm goes off.