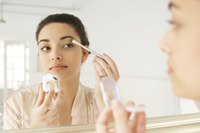 Eyeshadow primer may not be on the top of your makeup shopping list, but if you really want those peepers to pop, it's certainly worth the investment. This oft-neglected cosmetic tool extends the life of your eye make-up, helping it adhere to your skin and keeping it from fading. It also bolsters color, masks inconsistencies in your skin and enhances the texture of your shadow. It only takes a moment at the mirror to prep your eyes with primer.
Things You'll Need
Close the eye you want to prime first. Dab the tip of your middle finger into your primer, or apply just a bit of the primer from its tube. You can also use a built-in brush or your favorite wet-dry eyeshadow brush for primer application.
Gently dab the primer over all of your eyelid in a stippled fashion. Apply the makeup in the area that extends from your eyelashes to just below your brow and from the outer edge of your eyelash to the inner edge of your nose.
Blend the primer over your lid by smoothing it over with your middle finger so it has an even consistency and smooth texture. Lift your eyebrow with your thumb, blend the primer with upward strokes toward the lower edge of your brow using a wet-dry eyeshadow brush, and then blend it with sideways strokes across the eyelid.
Repeat the process on your other eye, and then apply your eye makeup as usual.