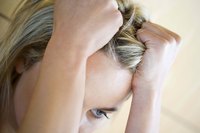 Time flies while you're having fun -- so quickly that sometimes you don't notice your roots growing out. You get dressed up in your favorite outfit, fix-up your makeup flawlessly, then glance at your hair. Frustration builds from the pit of your stomach and you consider calling your friends for a rain check. You can't possibly bear the though of going out in public with a dark stripe across your head. When your root-touch up appointment is past do, and you need a way to hide the evidence, rest-assured, there are a few tricks to help.
Things You'll Need
Blow Dryer
Hair Brush
Comb
Hairspray
Hair Elastic
Hairband
Hat
Turn Up the Volume
Although leading stylists advise you to limit your washes per week, you've got a hair crisis on your hands, so it's okay to break the rules this time. Greasy hair is a no-no when it comes to concealing the dark culprit. Wash your hair thoroughly with shampoo and apply conditioner to your tips.
Blow dry the bottom off your hair, running your fingers through it.
Use a paddle brush to grab hair right from the root. Pull the hair straight away from your head and blow dry on high heat.
Turn your head over and blow dry upwards for added body.
Back comb your roots and finish off with a few spritzes of hair spray.
Parting Ways
A straight part is a sure-fire way to put the spotlight on your dark roots. Take this opportunity to change up your part.
Drag your comb in a loose zigzag along your part. The messier, the better.
Place the part on the opposite side of your natural part for a different dynamic.
Bring in the Band
Accessorizing is a sneaky way to hide your roots. Pull your hair back into a ponytail or a messy bun and secure with an elastic.
Place a headband or scarf across your hairline. Match it with your outfit for a cute and effective way to tie in your entire look.
Wear your hair down for a 70's inspired style.
Hats are also a fun way to disguise your roots while still remaining fashionable.