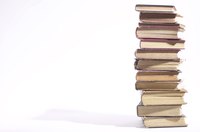 When your business creates something, it's almost always copyrighted from the get-go. Under U.S. law, creating a unique piece of work and moving it into some sort of tangible medium -- like publicly showing it, putting it on a website or printing it out -- automatically creates a copyright. While you have a copyright at that point, though, you can't sue to protect it. For that additional level of protection, you have to register your work with the U.S. Copyright Office, which will put a copy on file at the Library of Congress.
Download the appropriate form from the U.S. Copyright Office website. You may also choose to apply online through the electronic Copyright Office (eCO) system for faster service and a lower fee, but some types of work can only be registered through a paper application.
Fill in every field of the form for your type of work. For instance, if you're registering a photograph, you would use Form VA for a Visual Arts copyright, while a portfolio of product photographs woulds use Form GR/PPh/CON. While the fields vary by the type of submission, you will need to provide information such as who created the work. when it was credited, where (if anywhere) it was published and who to contact for future inquiries about rights.
Attach one or two copies -- depending on the type of work and how it was published -- of the work to the application. If using the eCO system, you can still submit hard copies rather than electronic ones; the system will prompt you to choose. In some cases, hard copies are required.
Enclose a check for your application fee with the application, or pay online with the eCO system.
Send the application to the Library of Congress address on the form. Once your copyright is approved, you will receive a certificate in the mail. If there are any problems, you will also be contacted by mail.