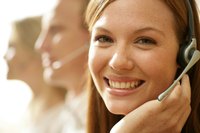 A company's cash cycle represents the amount of time between inventory purchases and the receipt of cash. The lower the cash cycle, the more efficiently the company extracts cash from its operations. A company may be able to show outstanding sales and profits but low cash flow because cash is tied up in operations. When this happens, managers can't use cash for new investments or to pay unexpected expenses.
Things You'll Need
Current balance sheet
Current income statement
Prior year balance sheet
Prior year income statement
Calculate the length of your company's current cash conversion cycle. The cash conversion cycle is calculated by adding days inventory outstanding to days sales outstanding and subtracting days payable outstanding. Compare the number to the previous year's financial information. If the number is rising, your company is taking a longer time to convert purchases into cash.
Evaluate accounts receivable practices. If you allow long, generous payment terms for your customers, they have little incentive to pay on time. Scrutinize payment terms for each customer, and decrease payment terms for customers who have no cash flow problems. Create incentives for your customers to pay you early. Offer a small sales discount, such as 1 or 2 percent, for immediate payments and prepayments.
Evaluate your sales and collection policies. If customers with outstanding balances can continue to purchase from your company, they may not have a reason to pay up. Create policies to restrict sales to severely delinquent accounts and instruct your sales team to push back on these customers.
Evaluate inventory turnover. The lower the inventory turnover, the longer it takes you to sell your inventory. Inventory that sits on the shelf for months hurts your cash conversion cycle. Inspect the oldest inventory items to assure they aren't obsolete or overvalued. Discount obsolete inventory to get it out the door and make room for new, high-margin products. Purchase your inventory in small, frequent intervals to avoid inventory buildup.
Evaluate accounts payable trends. If you have short payment terms with your vendors, it could be slowing down your cash cycle. Negotiate payment terms with vendors you've established relationships with. Your vendors won't want to risk losing a loyal customer. Negotiate payment terms with any vendor when you make a large purchase. Vendors are usually more flexible with payments for larger-than-usual purchases, especially if you can map out a consistent payment schedule.