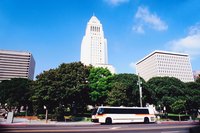 Taking the bus from Miami to Los Angeles is a cost-effective way to travel between the two cities and see the southern United States. The journey is long, however, taking at least three days with multiple stops along the way. If your schedule and budget are best suited to a bus journey, simple planning can make it as easy as possible.
Decide which bus lines will be best for your journey. Buying a one-way ticket through Greyhound is a straightforward way to get from Miami to Los Angeles. However, you can also book an express ticket from Miami to Orlando on the Florida Express Bus, and then take Megabus to Atlanta. This will cut down on your travel time due to fewer stops; however, it means coordinating bus times and drop-off and pickup locations.
Buy your tickets online, or opt to purchase them at the station if traveling Greyhound. When buying online, Greyhound gives you the option of either printing your ticket at home, or picking it up at the station at least an hour prior to departure. If you opt for Megabus, purchase your tickets online or over the phone, and you will be emailed a reservation number. Keep this number somewhere safe to show to the driver when boarding the bus.
Pack appropriately for the journey, as a long bus ride can be uncomfortable without the right amenities. Make sure to bring a carry-on bag that you can keep with you at all times, and pack it with a toothbrush, toothpaste, deodorant and ear plugs. Bring a blanket and pillow to get the best sleep during overnight legs. Also, bring a sweatshirt as buses can get quite chilly, even during the summer. Bring entertainment, such as a book, music device or your laptop to keep yourself busy during the long journey.
Arrive at your departure area in time for boarding. Megabus boards 15 minutes prior to departure; it's best to arrive as early as possible in order to have your pick of seats. Double check online the location for Megabus pickup and drop-off points the day of your departure; these locations may change as Megabus has no fixed stations. Greyhound advises that you arrive an hour prior to departure to assure quick and easy boarding.