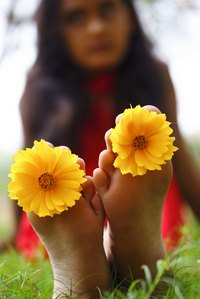 Although they work hard and experience normal wear and tear every day, feet are often unnoticed, neglected and taken for granted. Sometimes the feet take on a musky, unpleasant smell, especially when bacteria accumulates due to improper cleaning. Keeping the feet freshly scrubbed all year round is critical for good overall health and a sense of well-being. When sandal and flip-flop weather rolls around in spring and summer, clean, attractive feet become even more important.
Things You'll Need
Washcloth
Mild antibacterial soap
Pumice stone
Commercial or homemade foot scrub
Soft towel
Wash your feet every day, using comfortably warm water, a soapy washcloth and a mild antibacterial soap. Use the cloth to massage the soap gently over your entire foot, including the area between your toes. Rinse your feet thoroughly to remove all traces of soap.
Soak your feet in warm, soapy water for about 15 minutes to remove thickened skin or calluses. Smooth away the thick skin by rubbing the area gently with a pumice stone. Smoothing severely thickened skin may require several treatments. Never attempt to remove thick skin or calluses with razor blades or chemical products.
Exfoliate your feet once every week, using a gentle commercial foot scrub. You can also make your own mild scrub by mixing white or brown sugar with a small amount of olive oil to make a paste. Apply the scrub just before a bath or shower, using a gentle, circular motion. Don't scrub hard, especially if you have sensitive skin.
Dry your feet thoroughly with a soft towel, including between the toes.