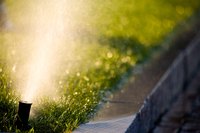 Automated, pop-up sprinkler systems save time and avoid the tangle of hoses and inflexibility of lawn sprinklers. Plus, they will keep things perfectly watered during summer vacation when no when is home. Pop-up sprinklers can be programmed to come on in the early morning hours when it is most efficient to irrigate and are almost completely invisible when they are not in use. Installation is a bit of work but not beyond the reach of a motivated gardener, along with a little help and advice. Once the system has been designed on paper and the control valves have been installed, the next step is to dig trenches for the water lines and the pop-up sprinklers themselves.
Things You'll Need
18-inch wooden stakes
String
Marking flags
Trenching shovel
Wheelbarrow
Tape measure
Mark the lines where the supply pipes for the irrigation system need to be buried. Use stakes and string to make the lines and put a marking flag at each location where a sprinkler head will be installed. It is easiest to put the lines and flags one foot away from where the trenches need to be so they are not in the way for digging.
Remove the sod layer in a 4-inch strip along the location of the irrigation lines and place it a couple feet to one side of each trench. A trenching shovel can be used to cut under the sod layer, though a mattock is also a useful tool for removing strips of sod.
Dig the trenches a minimum of 6 inches deep. They need to be deep enough to be below the frost line and to accommodate the sprinkler heads. Sprinkler heads need to be a minimum of 4 inches tall to rise high enough to spray water over a well-maintained lawn, but may need to be much taller, depending on the type of vegetation being watered. For example, 12-inch sprinkler head will rise 12 inches above the ground when the system is on and is usually sufficient for watering flower beds. To accommodate a 12-inch sprinkler head, the trench needs to be 14 inches deep -- 12 inches for the sprinkler housing and an additional 2 inches for the fitting that connects the sprinkler to the pipe.
Lay the pipe and install all the sprinklers. Allow the PVC glue to dry completely, then turn the system on. Check for leaks and make any necessary repairs or adjustments. If the top of any sprinkler heads are below the soil level, add soil or raising material until they are flush with the grade of the lawn when the system is off.
Return the excavated soil to the trenches and replace the strip of sod that was set aside.