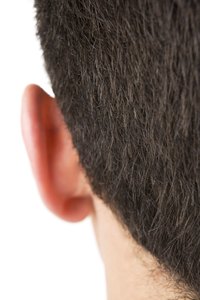 Ear hair is a common occurrence for many men, especially in later years. These little visitors can cause embarrassment or simply pose a challenge for keeping ears clean and wax-free. Shaving these little hairs away with a facial hair trimmer designed for the more delicate parts of the face, such as the nose and ears, is one of the most accessible and user-friendly ways to remove unwanted ear hair. Unlike plucking, which can be painful and intimidating, shaving ear hairs is an effective method of hair removable for the delicate inner and outer ear.
Things You'll Need
Nose and ear hair trimmer
Stand in front of a well-lit mirror and turn the ear hair trimmer on. The trimmer normally comes with one small head that fits into delicate spaces.
Place the head of the trimmer on the edge of the inside of the ear and gently sweep the nozzle over the hairy area. Sweep over the area a couple of times to get rid of errant hairs using a gentle, smooth motion. Clean trimmed hairs off the tip of the trimmer after every sweep by wiping it with a clean cloth.
Sweep the head of the trimmer over any areas on the exterior of the ear that may have unwanted hairs. Even behind the ear and just below the earlobe are great places to quickly shave away excess growth.
Sweep a cotton swab around the inside of the ear to remove any stray trimmed hairs.