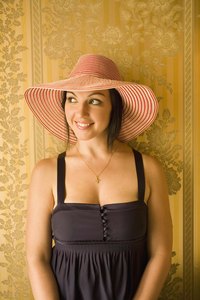 A stylish straw hat can shield the scalp and face from the sun's warm, but ultimately damaging, rays at the beach, at an outdoor picnic or during a quiet afternoon in the garden. However, no matter how initially attractive, hats don't always look as crisp and clean as they should after some use. Straw hats shoved down into a beach bag, purse or too-small storage box can become crushed and retain ugly, eye-catching creases throughout the brim and crown. Restore a straw hat to its original shape with careful heat application and maintain appropriate storage conditions during future use.
Things You'll Need
Ironing board
Cardboard, newspaper or bowl
Clean cloth
Plastic spray bottle
Garment iron
Handheld garment steamer
Assess the crease location. For brim creases, place the hat inside-up on the edge of an ironing board. For a crown crease in a flat-top hat, slip a piece of cardboard into the top and stuff it with newspaper to fill out the shape. Place it right side up on the ironing board. For a round-top hat, place the hat over an overturned bowl to fill out the shape.
Spritz a clean cloth with water until damp. Place the cloth over the hat for protection.
Warm the iron to a low heat, as high heat can damage both straw and any embellishments like ribbon or flowers.
Press the crease out of the hat with the iron. Rotate the hat back and forth repeatedly to prevent damage caused by lingering too long in one spot.
Fill the tank of a handheld garment steamer if the crease is stubborn. Turn the steamer to a low setting.
Cover the hat with a clean cloth to protect it from the heat. Direct the steamer nozzle toward the cloth and hold it several inches away. Move the nozzle back and forth over the crease. Periodically smooth out the crease by hand.
Iron over the covered crease one final time to remove its last traces. Take out the stuffing, including newspaper, cardboard or a bowl, and let the hat air dry.