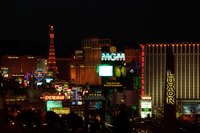 You're headed for the bright lights of Las Vegas -- but first you need to pack your bag. If you're planning to do the typical Las Vegas vacation, you're likely to see an elaborate show, hit the slots, eat some world-class cuisine and spend some time lounging by the pool. All of that means you'll want to pack a mix of upscale attire as well as a swimsuit or two.
Things You'll Need
Pool wear
Casual daytime wear
Upscale nighttime wear
Toiletries
Check the weather forecast before you go so you'll know what to expect. The average high temperature in Las Vegas in October is about 81 degrees Fahrenheit, but it could be slightly lower or higher during the time you're visiting. While you can generally expect warm, comfortable weather during the day, the average low is 59 -- meaning you probably will need a jacket, sweater or shawl at night.
Look at pictures and visit the website of the hotel or lodging where you'll be staying so you'll have an idea of the general atmosphere and dress code. Most hotels have a pool, and you'll definitely need a swimsuit or two as well as sunscreen, pool shoes and a cover-up if you plan to dive in. Some hotels even encourage women to wear high heels to the pool, reports the "Las Vegas Sun." However, most of that swimming gear is not going to be welcome in the dining rooms. The more upscale hotels often recommend "upscale, fashionable attire" in the restaurants at night.
Pack lightweight, breathable casual clothing for the daytime. While it's still going to be pretty warm outside, chances are you'll spend most of your time inside, where the air conditioning is going full-blast. For men, think linen pants and a button-down, short-sleeved shirt. For women, grab casual dresses, skirts, capris or jeans and short-sleeved tops -- with a cardigan stashed in your purse just in case. Shorts are OK for the daytime, too, but you may find they're too cool for the indoor temperatures.
Take at least two upscale outfits that are also lightweight and breathable. For women, that could be a designer or similar quality dress and appropriate accessories. For men, "business casual" should be your guide, meaning a sport coat and pants or even a linen suit. This type of attire will get you into most fancy restaurants as well as nightclubs -- and some may even allow T-shirts and jeans. If you're thinking that the dress code seems a little undefined or all over the place, you're right; the "Las Vegas Sun" defines the city as one with "famously slack sartorial codes." That said though, avoid flip flops, torn or stained clothing or sneakers when heading out for the night, since those things will be most likely to get you turned away from a nightclub.
Take the toiletries and accessories you'll need because you'll likely pay a premium for them on the Strip. Your hotel room will probably have a hair dryer and provide shampoo and soap, but you'll also need sunscreen for the intense sun and a moisturizing lotion to cope with the dry air.